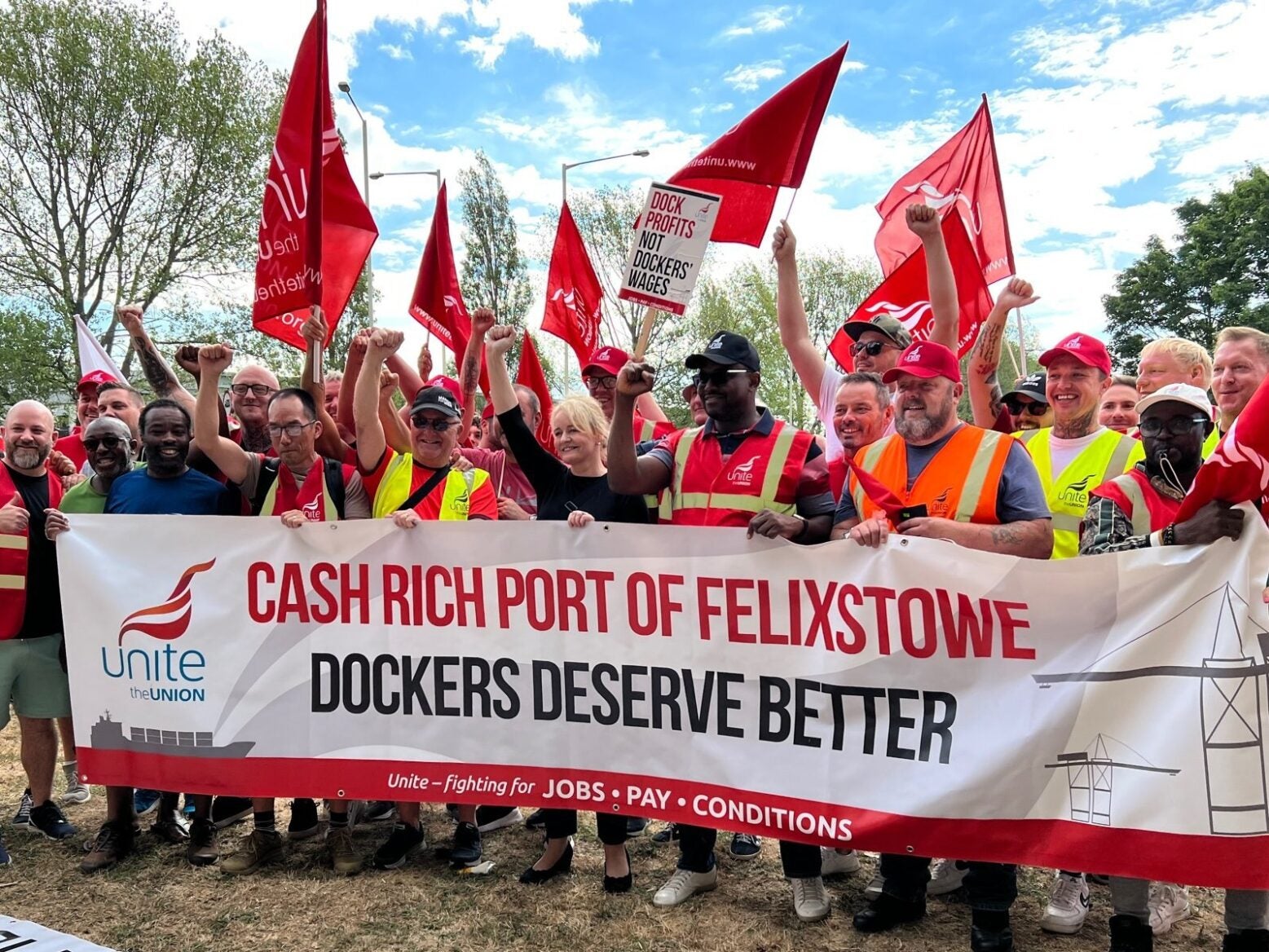 The strike over pay at Felixstowe, the UK's largest container port, could "escalate" if workers are not offered fresh terms, a senior union official has warned.
Employees at Felixstowe are part-way through an eight-day strike over pay – an action that may resume if the port does not return to the table with a new proposal, Sharon Graham, the general secretary of the Unite union, said.
"We will escalate this dispute unless they come back with a revised offer because this is ridiculous," Graham said.
UK food-industry trade bodies have expressed concern about the impact the action is having – and may continue to have – on supply chains.
Unite says staff have been offered a 7% pay increase. It has described the proposal has "significantly below" the UK's retail price index of inflation, which stood at 12.3% in July.
The port argues the offer – which it characterises as worth "more than 8% on average in the current year and closer to 10% for lower paid workers" – is "fair".
Sunday will be the final day of the current industrial action. "If they don't come back to the table this action will continue, and that's not good for the public, it certainly isn't good for these workers and I'd also say it's not good for the employer," Graham said.
The Unite union would have to give two weeks' notice of any fresh action.
Just Food approached the port for comment, including on whether it is prepared to improve on its offer. A spokesperson said: "The port of Felixstowe offers secure, well-paid jobs. Its employees enjoy a host of benefits that all exceed statutory requirements including paid sick pay, annual profit share bonus, performance-related bonus, opportunities for advancement, access to an occupational health centre, many still enjoy a defined benefit pension and all receive generous company pension contributions. The profit-sharing bonus paid to all employees annually was increased in 2021 by 53%. It is the sort of company and jobs Unite should be supporting not seeking to damage."
Impact of Felixstowe port strike
UK food manufacturers that use Felixstowe are looking to manage the impact on the supply chains, rather than avoiding the port. Some are looking to use road freight, or re-route shipments to Rotterdam, although there are concerns among some industry insiders about possible action at the Dutch port in solidarity with striking workers at Felixstowe.
Overall, food manufacturers, already feeling the pressure of months of rising costs across a range of inputs, are watching the situation closely, conscious of more expense if the dispute continues beyond the planned eight days of action. There is less concern about wastage, as the majority of food products handled by Felixstowe are long-life items.
Dominic Goudie, the head of international trade at UK trade body The Food and Drink Federation, said: "Felixstowe handles 50% of containerised trade entering the UK, so inevitably there will be some degree of impact on our members using that route. This could be made worse if other ports follow suit or if there is significant re-routing of trade that overwhelms other UK ports. We are in constant communication with our members who may be affected and will continue to offer our support and guidance."
He added: "We are concerned about the risk of ships opting to bypass Felixstowe altogether during the strike and beyond if a backlog develops, with goods potentially being dropped off in EU ports such as Rotterdam instead. This would present logistical challenges and potentially significant added costs and bureaucracy to bring those goods to the UK."
Officials representing specific sectors of the UK food industry also expressed concern about the impact of the action.
"Our members are already under intense pressure from inflation, staff shortages and the cost of energy. This strike will simply add more pressure to those who import ingredients and export finished products," Rupert Ashby, the CEO of The British Frozen Food Federation, said. "Whilst efforts are being made to reroute through other ports the additional volumes are likely to lead to further expensive delays. Frozen food is less time-sensitive than fresh produce [but] the additional costs are the last thing we need at the moment. Long-term delays may mean the production of some items is severely reduced or even worse have to stop. We hope the dispute is settled quickly."
Rod Addy, the director general of the Provision Trade Federation, which represents the dairy and pig products industries in the UK, added: "There is the potential for extra unnecessary charges for loads that become stuck at Felixstowe and consumers buying food are already facing inflation from a host of factors outside their control.
"Dairy products can't be held up for too long, so many import and export vessels due to be routed through Felixstowe have had to be rerouted. Such disruption has the potential to create further pressures elsewhere. A period of time is needed for the logistics chain to settle down once disputes are resolved. Contingencies are being sought but if the strike spreads to other ports there could be real problems ahead."