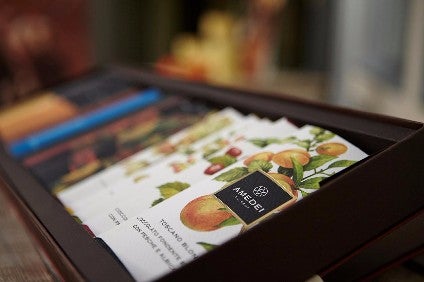 Italy's fourth-largest mineral water company Ferrarelle has bought a controlling stake in local speciality chocolate maker Amedei and will seek to give "concrete impetus" to the brand's global development.
Ferrarelle said a statement on 7 August it purchased a 99% share in Amedei, held by Singapore's Octopus Europe since 2015, for an undisclosed sum. The remaining 1% will be retained by founder maitre chocolatier Cecilia Tessieri to "guarantee continuity in the quality" and unique research that made the Tuscany-based brand world renowned for its "excellence in the selection and processing of cocoa".
Ferrarelle said it will invest further in production at Amedei's Pontedera facility, providing "know-how, industrial capacity and commercial organisation", with an "eye always on sustainability and social responsibility".
Carlo Pontecorvo, the president of Ferrarelle, said: "We have been conquered by the philosophy and craftsmanship of this wonderful excellence that we are happy to bring completely back to Italy. Our project for Amedei is adding value to the tradition, applying the strengths of the corporate organisation model and business structure".
Amedei, which brought its first chocolate bars to the consumer in 1998, works along side some of the world's best pastry chefs as supplier of "excellent" chocolate, according to its website. Ferrarelle supplies the mineral water brands Vitasnella and Essenziale.