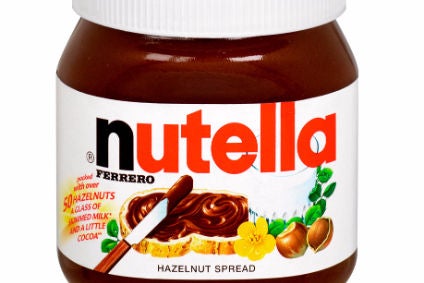 Italian confectionery giant Ferrero has admitted it has made a "minor adjustment" to the recipe for its popular hazelnut-chocolate spread Nutella.
It follows German consumer group Verbraucherzentrale Hamburg (the Hamburg Consumer Protection Centre) posting information about the recipe change on its Facebook page.
The organisation noted the sugar content in the spread has gone up from 55.9% to 56.3% and the skimmed milk powder content from 7.5% to 8.7%. It also revealed that the fat content has been reduced to 30.9% from 31.8%.
"Since the colour of the new Nutella is brighter, we assume that more milk powder was added at the expense of cocoa," the Hamburg Consumer Protection Centre noted.
The consumer group said it had not had a direct response from Ferrero to its enquiries but, in the face of extensive media coverage around the world, the food manufacturer confirmed it had changed the Nutella recipe.
The statement said: "There has been a minor fine-tuning of the Nutella recipe. The content of hazelnuts, cocoa, sugar and palm oil remains unchanged. The fine-tuning consists of substituting whey powder with an equivalent quantity (2.1g/100g total product) of milk powder (from 6.6% to 8.7% of total product). This enables us to improve the overall quality of the milk content and to ensure a better consistency of our unique taste over time. That's all.
"Our recipe contains seven simple ingredients, with no colourings and no preservatives."
However, some Nutella fans have taken to social media to express their disappointment at the recipe change.