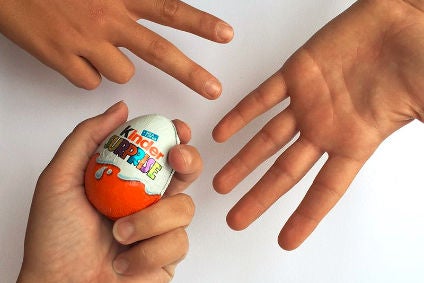 Confectionery giant Ferrero has been investigated by the UK's advertising watchdog over a range of adverts for its Kinder chocolate brand which have been banned on the grounds they breached rules promoting foods for children that are high in fat, salt or sugar.
The bans by the Advertising Standards Agency (ASA) relate to websites, an app and a YouTube channel and were said to be in breach of so-called HFSS rules, or related to food content deemed as unhealthy or junk. The order came following a complaint from the Children's Food Campaign.
It is deemed by the ASA that product ads targeted directly at pre-school or primary school children must not include a promotional offer.
Affected websites are the home page of www.kindernauts.co.uk, which featured branding incorporating the Kinder logo and the Kinder Chocolate logo. That of www.magic.kinder/en/all which featured branding and incorporated the Kinder logo, and web pages with games, videos and video stories that were labelled as suitable for children of three years of age and older.
The Magic Kinder app featuring branding which incorporated the Kinder logo and a range of activities for children, including interactive and non-interactive stories, colouring in, educational games, quizzes and videos. Finally the Magic Kinder YouTube channel, which featured a range of videos including "Secret Life of Surprises" short animations similar to those that appeared on the Magic Kinder website.
In a statement, the ASA said: "We told Ferrero UK to ensure that HFSS product ads were not directed at children through the selection of media or the context in which they appeared. We also told them to ensure that HFSS product ads that were targeted through their content at pre-school and primary school children did not include a promotional offer or licensed characters popular with children."
Ferrero responded by saying it makes efforts to ensure its advertising falls within stated guidelines but also called for further consultations with UK authorities to clear up any anomalies.
"Ferrero has been working with the ASA in the UK on this issue to understand the concerns raised," according to a statement issued by a company spokesperson. "As a consequence of the ruling, Ferrero regrets that it has had to make the decision to temporarily suspend the app in the UK. We believe this highlights the need for further guidance and consultation on marketing across the UK industry."
Ferrero said the suspension of the app only applies to the UK and does not affect any other countries.
The spokesperson went on to say: "Ferrero is committed to acting responsibly, which is why we aim all advertising and marketing communications for our products at adults not children. We firmly believe in parental choice and the role that parents play in choosing what is suitable for their own children."