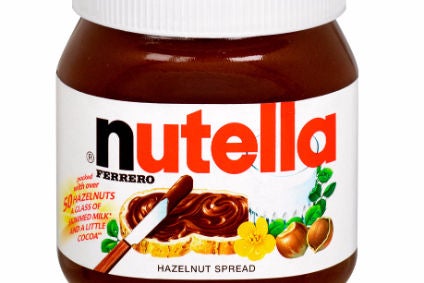 Ferrero, the Italian confectioner, has denied reports some supermarkets have de-stocked Nutella after the European Food Safety Authority linked palm oil consumption – a major Nutella ingredient – to an elevated risk of cancer.
Reports had suggested Italian retailer Coop Italia had pulled Nutella products. However, a spokesperson for Ferrero told just-food Coop had only removed its own label items containing palm oil from the shelves. "We can confirm Nutella has never been removed from the supermarket shelves in any countries. The Italian supermarket Coop removed its own private-label products that contained palm oil," the spokesperson explained.
Coop Italia also confirmed the reports were "not true". A spokesperson explained its decision to "recall" and "reformulate" products only applied to "our PL products".
A report released earlier this year by the EFSA suggested palm oil is more carcinogenic than other oils. According to the report, palm oil produces glycidyl fatty acid esters (GE) when heated above 200 degrees Celsius. With evidence suggesting that GE acids are genotoxic and carcinogenic, the EFSA panel did not set a safe level for GE consumption.
Ferrero insisted its products are safe to eat due to the quality of ingredients used and the processes employed in production, which are designed to limit the presence of "contaminants" to "minimum levels".
"The health and safety of consumers is an absolute and first priority for Ferrero and we confirm that Ferrero products are safe," the spokesperson said. "EFSA has analysed the presence of contaminants in a large number of products and oils stating that the presence of contaminants depends on the oils and fats used as well as the processes they are subjected to. It is for this reason that Ferrero carefully selects quality raw materials and applies specific industrial processes that limit their presence to minimum levels, fully in line with the parameters defined by the EFSA. In addition, our quality teams constantly monitor such factors and guarantee the food safety of our products to the consumer."
While palm oil is a major ingredient in many processed foods, media attention has focused on Nutella spread.
Ferrero said it is launching a marketing campaign in Italy to celebrate its "70 year anniversary" as well as its "passion for quality in selecting and combining the best ingredients, such as palm oil, cocoa and hazelnuts".