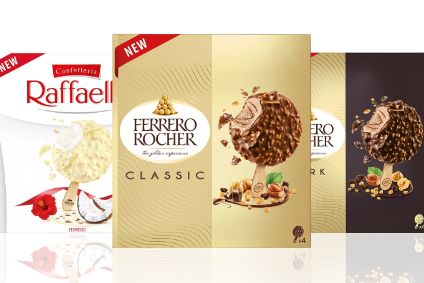 Italy-based confectioner and sweet-snacks giant Ferrero is launching a range of ice-cream products in Europe.
The family-owned giant is rolling out ice-cream products using a clutch of its flagship chocolate brands.
Ferrero is hitting the market with ice creams branded with its Ferrero Rocher and Raffaello chocolate products. As well as Italy, Ferrero is selling the ice creams in France, Germany, Austria and Spain.
In 2019, Ferrero acquired a controlling stake in Spain-based ice-cream manufacturer Ice Cream Factory Comaker (ICFC) for an undisclosed sum.
"The Ferrero group is constantly taking up new challenges by playing the innovation card," Frédéric Coti, director of transformation projects within Ferrero's French arm. "After entering the biscuit market with the Nutella and Kinder brands, Ferrero is entering the ice cream market with its Ferrero Rocher and Raffaello brands. We hope that these innovations will seduce our consumers with the same enthusiasm as that aroused by the launch of cookies."
Two Ferrero Rocher ice creams are being sold – a dark product and a classic variety – alongside the Raffaello SKU.
In December, Ferrero sought to bolster its presence in better-for-you snacks with the acquisition of UK cereal bars, muesli and granola business Eat Natural.