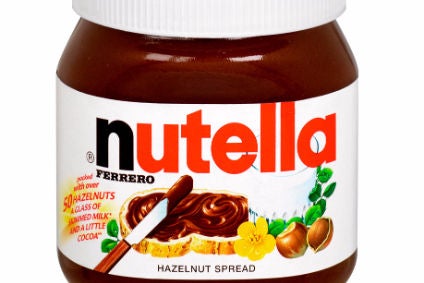 Ferrero is taking a tough line with striking workers at a Nutella production plant in France, who have staged a protest for the past week over wages and working conditions.
According to union sources, only one of the plant's four production lines dedicated to Nutella is in operation and at significantly reduced capacity of 20%. Meanwhile, production of Kinder Bueno chocolate bars has stopped altogether, they claimed.
Normally, the plant in Villers-Escalles produces 600,000 jars of Nutella on a daily basis – one-quarter of Ferrero's global output of the chocolate spread.
Contacted by just-food, Ferrero declined to comment on the impact of the strike and to what extent production was being affected.
However, it made clear the seriousness of the strike on its operations in a statement sent to just-food: "Since Tuesday morning (28 May) representatives of the Force Ouvrière labour union have blocked the access to the Villers-Écalles plant. This situation is taking place at a time when annual, statutory negotiations are taking place, the next meeting being scheduled for 13 June.
"In such conditions, management has a duty to protect non-striking personnel at the plant, who are in the majority and who wish to continue to work as normal. This is why after six days of attempting to hold discussions with the FO union, each time being met with refusal, we have been constrained to notify the strikers that, following a judicial ruling, they will be fined if they continue their illegal blockade of access to the plant."
The fines took effect from 06:00 this morning but the strikers have yet to lift their picket of the plant, Ferrero added.
"The company deeply regrets this situation and remains open to dialogue in keeping with its values, and as soon as access to the site has been re-established."
According to the AFP news agency, which quoted an internal Ferrero email as its source, the fines have been set at EUR1,000 per hour per person.
Contacted by just-food, the FO union's branch secretary at the plant, Fabrice Canchel, was not immediately available for comment.
Speaking in the French media today, Canchel said 160 staff had been on strike for almost a week and claimed that no trucks had neither entered or left the plant during this period.
Canchel added the fines were a violation of workers' right to strike.