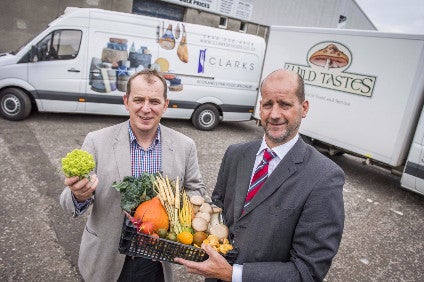 Scottish-based Fine Food Holdings has acquired two specialist food companies in a double acquisition valued at GBP1.5m (US$1.9m)
Fine Food said yesterday (25 July) it had bought Clarks Speciality Foods and Wild Taste, which both supply premium products to the foodservice sector and speciality retailers across Scotland.
Clarks Speciality Foods was formed in 1993 and sells products such as fine cheeses, chocolate and charcuterie to some of Scotland's top hotels, restaurants and delicatessens.
Wild Tastes is a direct seller to kitchens of cheese, deli, seasonal game and other fresh produce.
Fine Food owners Allan Currie and Stuart Robinson are both established investors in the food and drink sector, with coffee roasting and bakery businesses to their name.
Chairman Stuart Robinson said: "We're very pleased to have brought Clarks and Wild Taste into our family of companies. The products and services they provide complement our other high-end food and drinks companies. Both companies enjoy strong reputations among Scotland's top restaurants, hotels and other food outlets."