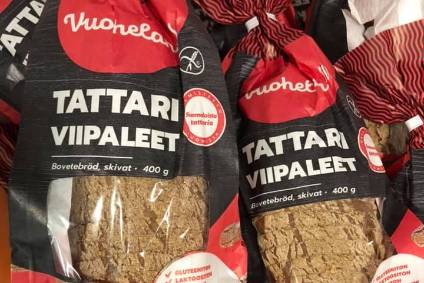 Fazer Group, the Finland-based food manufacturer, has snapped up Vuohelan Herkku, a gluten-free supplier in its domestic market.
Financial terms were not disclosed. Fazer described Vuohelan Herkku as "one of the forerunners of gluten-free baking in Finland". The company, already present in the gluten-free category, claimed acquiring Vuohelan Herkku makes it "the market leader in gluten-free bakery products in Finland".
Family-owned Vuohelan Herkku, set up in 2003, has a production facility in the southern Finnish city of Lahti, where Fazer, one of the country's major bakery groups, has a factory.
"The acquisition of Vuohelan Herkku is a natural move for us when executing our strategy. We will become a very strong player in the growing gluten-free market when we exploit Fazer's strong brand and combine Fazer's and Vuohelan Herkku's know-how," Fazer president and CEO Christoph Vitzthum said.
Vuohelan Herkku's biggest product category is fresh bakery products, Fazer said, with the firm also supplying frozen products and flour mixes. In 2018, Vuohelan Herkku generated net sales of EUR8.6m (US$9.6m). It employs around 80 people.
Gluten-free products represent approximately 3% of the total bakery market in Finland, Fazer noted, adding: "The market is estimated to grow significantly in the coming years."
Pirkko Hämäläinen, founder and managing director at Vuohelan Herkku, said: "I'm pleased that my life's work as an innovator of gluten-free products continues. Along with the acquisition, the business will develop further, and more gluten-free options will become available in the market. For us at Vuohelan Herkku, it is important that we share the same values with Fazer. High quality and domestic origin are highly significant to both of us."