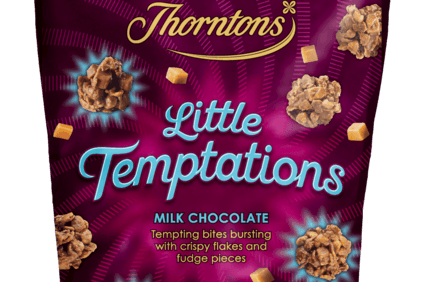 Finsbury Food Group has launched Thorntons Little Temptations, a line of cake bites, in the UK.
The bagged products are mini bites of cornflake clusters, chocolate and fudge. They comes in two variants: milk chocolate and dark chocolate.
Citing IRI data, Finsbury said the UK cake bites segment has seen strong growth in the last year, with sales totaling more than GBP35m (US$58.2m) annually. Thorntons has a 40 per cent share of the market and has seen a sales increase of 25 per cent year on year to week ending 18 July.
Natalie Nairn, brand manager for Finsbury Food Group, said: "As market leader in the cake bites segment, we know what works well. We are excited to be launching the first cake bite into the market that is packaged in a fantastic re-sealable bag. Increasing numbers of consumers want treats that can be shared in and out of home and we believe the format of Little Temptations fits this perfectly."
Little Temptations will launch into UK retailers this month at an RRP of GBP1.99 (US$3.05).