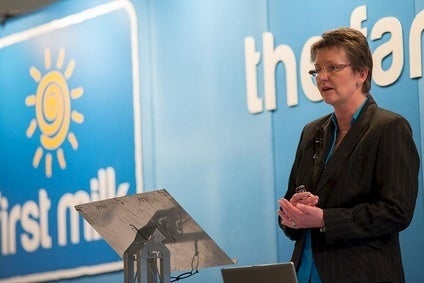 First Milk CEO Kate Allum is to leave the UK dairy co-operative, the company confirmed today (9 March).
Allum became chief executive in 2010 but has presided over an under-pressure business in recent quarters.
In January, First Milk deferred payments to farmers and increased the amount it asks members to invest in the business to bolster cash flow hit by a slump in commodity prices.
The move prompted fears over the future of First Milk, although the co-op insisted the business was "very safe".
The pressure in the second half of 2014 followed a year in which First Milk made a net loss of GBP5.2m (US$7.9m) thanks to a series of one-off charges, including restructuring costs. Sales over the 12-month period did rise, growing 15% to GBP610.5m.
However, chairman Sir Jim Paice today told First Milk's members of Allum's desire to leave the co-op, which she first expressed "late last year".
Paice said he and First Milk vice chairman Nigel Evans had interviewed candidates to succeed Allum. "We expect to be in a position to make an appointment shortly."
He added: "Our preference was to do one announcement covering Kate and the new CEO when we appointed a new person. However, over the last few days there have been calls from members and some media speculation about Kate's position. While we are very close to an announcement regarding a replacement for Kate, we felt that it was best to provide this update statement now.

"In the meantime, Kate remains CEO of First Milk and as usual is actively involved in all parts of the business. She has committed to work on a comprehensive handover with her replacement before leaving the business."