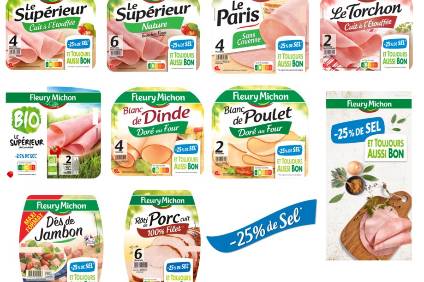 Fleury Michon, the French food manufacturer, has set out plans to lower the amount of salt contained in its cooked-meats products.
The company said all 181 of its lines would come under a range it launched in 2002 containing 25% less salt.
Fleury Michon said the changes would be made in three stages. It said some 35% of the range would be converted in October, a level that would rise to 80% in April.
It said the final 20% of its cooked-meats portfolio, including products based on beef, veal and bacon, would be switched in 2020.
"Our commitment to salt reduction is more than 15 years old. In 2002, we were the first manufacturer to have developed a low-salt ham offer with the launch of our first "-25% salt" range," Fleury Michon said among a series of tweets today (27 September).
The move coincided with the publication of a report from the French parliament that made a series of recommendations on the ingredients used in processed food on sale in the country, including the introduction of maximum levels of sugar, fat and salt.