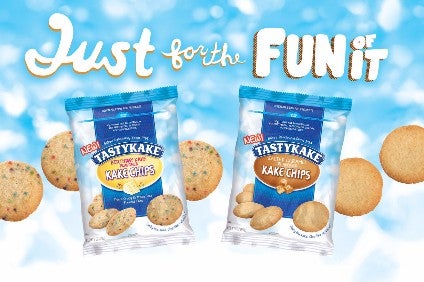 US bakery giant Flowers Foods had added a new product to its Tastykake range with the launch of Kake Chips.
The snacks are said to combine the crunch of a crisp with the sweetness of cake.
They will be available in Birthday Kake and Salted Caramel flavours.
Brent Bradshaw, Flowers Foods' vice president of cake marketing, said: "With the launch of Kake Chips, we're thrilled to introduce our fans nationwide to a completely new and delicious Kake experience.
"Kake Chips highlight Tastykake's wide variety of flavours and textures, and the convenient, re-sealable packaging makes them the ideal treat for on-the-go or at-home snacking."
Made with zero grams of trans fat per serving, Kake Chips have no artificial flavouring or preservatives. They are sold in multipack bags, retailing at US$2.99.
Earlier this month, Flowers revealed it is to focus resources on four key brands in an attempt to "reinvigorate its core business" against a backdrop of falling sales and profits.
Revealing more detail of its Project Centennial programme, launched last year to try to increase efficiency and drive growth, Flowers president and CEO Allen Shiver said it Flowers was streamlining its brand line-up and would focus its efforts on its four largest brands: Nature's Own, Wonder, Dave's Killer Bread and Tastykake.