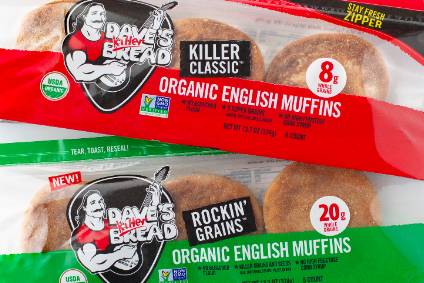 US bakery group Flowers Foods is moving Bradley Alexander into the role of chief operating officer to replace Ryals McMullian, who vacated the position to become CEO this month.
Alexander was president of the Nature's Own and Tastykake brand owner's packaged bread business division. He will take up the COO job immediately, a position that was only created last year with the appointment of McMullian.
Allen Shiver recently stepped down as chief executive of the New York-listed firm, a seat he occupied since 2013. Flowers Foods has been struggling financially of late amid inflationary price pressures and a drop in volumes. In 2017, the company reorganised its structure to focus on growing its brands, to cut costs and improve accountability, a move that resulted in more than 400 job losses.
The new COO will be responsible for "driving the execution of Flowers' strategic initiatives", overseeing the Dave's Killer Bread's fresh packaged bread and snacking/speciality business units, supply chain, and sales, according to a statement.
President and CEO McMullian said: "We are fortunate to have an executive of Brad's experience, who has served as COO in the past, return to this important position. With the new structure firmly in place, I am delighted to have him back in this role as a key strategic adviser. Brad will continue to build on the work we've already done to make Flowers a more agile, efficient, and profitable company."
Flowers Foods also announced other appointments. Mark Courtney, who is currently senior vice president for retail accounts, will become president of fresh packaged bread. And chief legal counsel Stephen Avera will retire at the end of the year, with Stephanie Tillman, the company's vice president, chief compliance officer, and deputy general counsel, set to succeed him on 1 January.