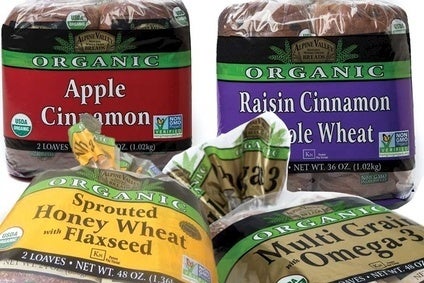 Flowers Foods today (9 September) announced a deal to buy US organic and natural bread maker Alpine Valley Bread Co., its second move in the category in under a month.
The acquisition of Alpine Valley, valued at US$120m in cash and stock, is expected to be completed in the fourth quarter.
The transaction follows Flowers' $275m deal to buy US organic bread supplier Dave's Killer Bread, which it unveiled last month.
Apline Valley employs 282 and operates two bakeries in Mesa, Arizona. Its product line includes Super Grains, 21 Whole Grains, Multi Grain Omega -3, Sprouted Wheat with Flaxseed and other breads that are USDA Organic certified, Non-GMO Project verified, and kosher certified.
Flowers said Alpine Valley has generated a compound average revenue growth rate of approximately 51% over the past three years. It is expecting to post fiscal 2016 sales of approximately $85m-$95m.
"Alpine Valley Bread Co. will further strengthen our company," said Allen Shiver, Flowers' president and CEO. "With its extensive portfolio of on-trend organic products, Alpine Valley has a deeply rooted culture of excellence, service, and commitment. We are especially pleased to welcome Alpine's team members who will bring expertise in the development, production, and delivery of organic breads to Flowers."
Todd Wood, Alpine Valley's CEO, added: "Flowers Foods brings resources we need and we are pleased with Flowers' commitment to keep our brands and our bakeries true to what has made our growth possible – making bread with a carefully developed process with pure and simple ingredients. In short, our commitment to deliver products positioned to meet consumers' needs for healthier, more nutritious baked foods will be stronger than ever when we join Flowers Foods."
Under the plans, Alpine will operate as an independent subsidiary of Flowers. The terms of the agreement will see Flowers fund around 90% of the deal using its existing revolving credit facility and available cash. The rest will be in Flowers common stock. Flowers anticipates the transaction will be neutral to fiscal 2015 earnings.