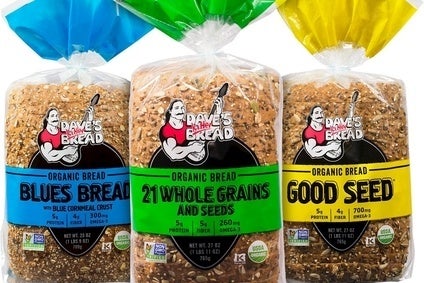 Flowers Foods, the US bakery group, is to acquire local organic bread company Dave's Killer Bread for US$275m.
Dave's Killer Bread is the largest supplier in an organic bread category that has grown at 27% over the last four years, Flowers said, citing IRI data.
The business, founded in 1955, is expected to generate annual sales of $160-170m in fiscal 2016. It has seen its revenue increase at a compound annual growth rate of 32% over the past three years. Flowers said IRI data showed the retail sales of Dave's Killer Bread had risen by 25% "in the past year".
Flowers president and CEO Allen Shiver said: "This is a well-positioned, fast growing company with excellent brand equity and an on-trend organic portfolio that appeals to today's consumers."
The existing shareholders of Dave's Killer Bread include the founding Dahl family and investment firm Goode Partners.
The Dahl family set up the business as Nature Bake 60 years ago, renaming the company after its best-selling brand in 2005.
It employs 300 and operates one bakery in Milwaukie, Oregon.
John Tucker, the president and CEO at Dave's Killer Bread, said the "partnership with Flowers Foods is such a great fit".
He added: "Flowers Foods has a long history of producing whole grain breads, a deep understanding of the unique process that's required to bake a bread like Dave's, and full intention to maintain what makes our bread powerfully different: organic, whole grain and non-GMO ingredients and a commitment to seeing the potential in our people."
The acquisition is expected to be completed in the third quarter. Flowers said it expects the transaction to be neutral to its earnings in 2015.
Flowers, the owner of mainstream brands including Whitewheat and Sunbeam, also announced its second-quarter results today, in which it reported jump in profits and sales.