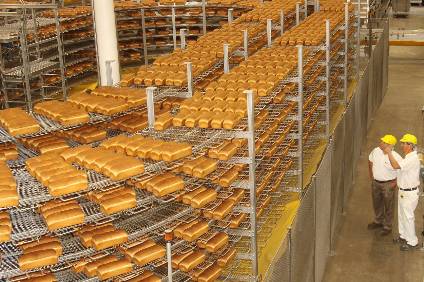 The "top priority" for Flowers Foods is to "accelerate" its moves to find cost savings, the US bakery group's CEO has said, after the Nature's Own and Dave's Killer Bread owner issued a profit warning.
On Thursday (9 August), Flowers Foods lowered its forecast for its annual, adjusted earnings per share, pointing to pressure on the costs of inputs including labour, investment in promotions and disruption to yeast supplies in the company's second quarter.
Flowers Foods booked higher second-quarter sales, with Allen Shiver, the company's chief executive, describing the group's "top-line performance" as "solid".
However, Shiver labelled Flowers Foods' results in the quarter to 14 July as "mixed" and said the business, which also owns brands including Wonder bread and Tastykake cakes, would move to focus on costs.
"While we are pleased with our top-line performance this quarter, we are not satisfied with the results, as gross margins were down. There were several factors that pressured gross margins this quarter. And because of them, we have reduced our financial outlook for the year," Shiver told analysts on a call to discuss Flowers Foods' financial results.
Two years ago, Flowers Foods announced "Project Centennial", a programme to improve efficiency and revitalise profitability.
In July this year, to lead the implementation of the project, Flowers Foods moved chief strategy officer Ryals McMullian to the position of chief operating officer.
Speaking to analysts on Thursday, McMullian said Flowers remained on-track to achieve the savings it had targeted making under the project but, reflecting on the recent pressures on costs the company had been under, admitted the group had "more work to do".
"I am tremendously proud of the progress we've made and how we've positioned ourselves for the future, but, at the same time, all of us are keenly aware that we have not yet realised the full value promise of Project Centennial," McMullian said.
"Despite overall savings goals that are on target, we have not yet translated those savings into improved bottom-line performance. To be sure, additional cost headwinds and operational disruptions, some of which Allen mentioned, are partly to blame. But we also have more work to do to reduce our cost. My immediate focus will be on generating additional cost savings, primarily by addressing inefficiencies in our supply chain."
Shiver added: "Accelerating the cost-savings initiatives that we have in place, that is our top priority. With the fresh perspective and accountability that Ryals brings to operations, our focus on margins and efficiencies has never been greater."
Flowers Foods faced questions from analysts about the company's ability to hit its new forecast for annual adjusted EPS. CFO Steve Kinsey said the company would be looking at making changes to its supply chain and pointed to the "elevated" marketing costs to support a new Nature's Own product in the first half of the year.
"In Q2, the two biggest items impacting the gross margin were the elevated promotional activity, which was about 50 to 100 basis points. We also had lower efficiencies, which could be some of the fallout from the disruption around yeast. Also, the labour issue was roughly 30 to 40 basis points," Kinsey said.
"We believe that we have the initiatives in place to address the efficiency issues in the back half. And then also you should see the overall marketing impact come down materially in the back half with regard to the impact on gross margin. It was a lot of couponing activity. That gets netted against sales."
Flowers Foods also faced a question about whether it still thinks it can hit its EBITDA margin target of 13-14% under the five-year Project Centennial.
Kinsey said: "From a time perspective, we are only in year two. We still feel like there's time to mitigate and make changes to the overall cost structure where we need to [in order] to stay on track to hit our 2021 margin target of 13% to 14%, which is basically another $100m of EBITDA. Also built into that target is M&A. And we've had a pretty dry run here, with the exception of the organic businesses from an M&A perspective. We do expect to see M&A in the next three to four years as well. So, we still feel comfortable with the target that we have out there from that perspective."
McMullian added: "There's a cadence of savings initiatives that were always planned under Centennial. And I think we mentioned last quarter, the initial focus was largely on SD&A [selling, distribution, and administrative workforce-related expenses] and now turns to supply chain. So, we feel really good about where we are."