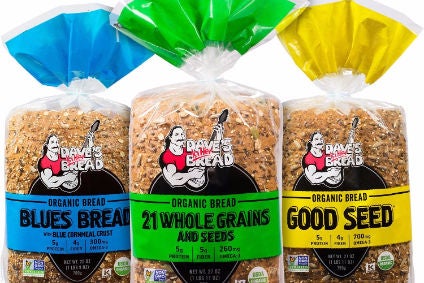 Flowers Foods has said that it will concentrate on "profitable growth" and raising its margins despite posting a decline in first-quarter operating earnings.
The company said EBITDA in the period dropped 4% to US$129m. The company said margins at its direct store delivery business dropped due to increased workforce expenses, a $2.5m investment in converting the Tuscaloosa bakery to an organic facility, and an increase in contract manufacturing that the group attributed to the "constraints" in Dave's Killer Bread. EBIT dropped to $95.2m compared to $96.5m in the comparable period of last year. Again, a decreased contribution from the DSD business offset earnings growth at the firm's warehouse segment.
Net income fell to $59.3m versus $61.4m in the comparable period of last year.
Despite the first-quarter margin squeeze, Flowers insisted it would focus on strengthening its operating performance. CEO Allen Shiver commented: "We are focusing on margin expansion to drive earnings growth. To that end, we are aggressively improving our promotional effectiveness and increasing consumer awareness of our brands. We are also taking action to eliminate excess cost and leverage our most efficient bakeries. We continue to monitor the landscape for opportunistic acquisitions that will enhance topline growth and improve our overall margin structure."
According to BB&T Capital Markets analyst Brett Hundley, this focus represents a departure from Flowers' previous strategic priority of geographical expansion. In a note to investors, Hundley wrote that Flowers' is "de-emphasising long-standing strategy of continuously growing geographic share in conventional bread" and instead "focusing on organic bread market growth and internal cost improvement/network optimisation".
The analyst continued: "We applaud management for being willing to alter its focus after many years of successful growth. The competitive market has indeed changed, alongside changing consumer desires. As such, we believe that a focus on specialty bread growth coupled with a profit maximisation strategy in conventional bread is the right course of action."
In its trading update, released after close of play yesterday (19 May), Flowers said sales increased 5.1% to $1.2bn. Acquisitions of Dave's Killer Bread and Alpine Valley Bread contributed 5.3% to the overall sales increase.
Looking to the full year, Flowers forecast sales in the range of $3.98-4.08bn, representing growth of approximately 5.5-8%, and earnings per share of $1-1.06, growth of 8.7-15.2%.