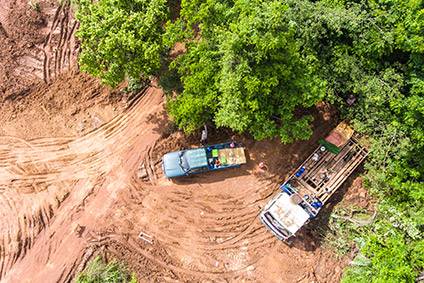 Seventeen of the world's largest FMCG groups and retailers have launched another bid to tackle deforestation under the auspices of The Consumer Goods Forum after falling short of a 2020 goal tabled a decade ago.
Manufacturers including Nestlé, Unilever and Danone, as well as retailers including Walmart, Carrefour and Tesco, have joined the Forest Positive Coalition of Action to try to speed up efforts to "remove deforestation, forest degradation and conversion" in the supply chains of palm oil and soy, as well as paper, pulp and fibre-based packaging.
In 2010, The Consumer Goods Forum announced a goal for its members to achieve "net deforestation" by 2020.
By last summer, Cargill, the US-based agri-food giant, publicly said it believed the target was unlikely to be met. In October, Nestlé, which had a 2020 goal as part of The Consumer Goods Forum's push, admitted it would miss its goal but called on the FMCG industry to improve its efforts by being on transparent on its efforts, improving its use of technology to monitor forests and to involve smallholder farmers in any future strategy.
Grant Reid, the president and CEO of Mars and a member of The Consumer Goods Forum, said the companies, which also include bakery behemoth Grupo Bimbo, General Mills and Mondelez International, would "take action in four critical areas".
He said: "We will engage with suppliers and traders and ask that they implement forest positive commandments across their entire commodity operations. Two, we will join forces to address forest conservation challenges in key production landscapes. Three, we will engage governments and stakeholders to create an enabling environment for forest conservation and, four, we will ensure transparency and accountability by regularly reporting on progress."
Wai-Chan Chan, who joined The Consumer Goods Forum as managing director earlier this year after more than a decade at consultancies Oliver Wyman and OC&C, said its members had learnt from the work undertaken to try to tackle deforestation over the last decade.
"While many of our members made progress on our 2020 goal to achieve zero net deforestation, we have learned that taking action on individual supply chains alone does not drive the transformation needed to achieve a forest positive future," he said. "In 2010, our strategy was rooted in remediating individual companies supply chains, often through certification, ensuring that the sourcing of key commodities would not deplete tropical rainforests. As a result of the hard work and investments our members have made in their supply chains, we have learned that certification plays a critical role, but it's not the only answer."
He added: "We are also bringing a variety of voices to the table to ensure we engage from the get-go and effectively listen to the concerns of those fighting to mainstream the issue of deforestation and who support nature-based, innovative solutions. We are in this fight together".