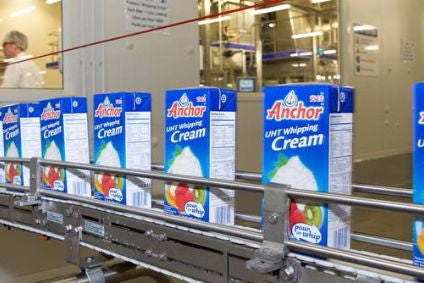 New Zealand dairy giant Fonterra is expanding its Waitoa site with the addition of a third production line in a year, taking annual capacity to 250m litres of UHT cream and milk.
The new line at the facility, which is located more than 100 kilometres south of Auckland, will be up and running by year-end, the owner of Anchor and De Winkel brands said.
Fonterra has injected NZD162m (US$113m) into UHT production at Waitoa over the past five years and created around 150 jobs, and is part of an objective to take more New Zealand farmers' milk into "higher-returning products".
In its Global Dairy Update issued in October, the company cuts its 2018 outlook for milk collection to 1,540m kilograms of milk solids (kgMS) for the year to 31 May 2018, from 1,575m.
Robert Spurway, chief operating officer for global operations at Fonterra, said the expansion is being driven by the success of the co-operative's consumer and foodservice business keeping pace with the ongoing demand for New Zealand dairy.
Once the latest expansion is complete, the site will have the capacity to produce up to 45,000 cartons of one litre UHT products every hour.
"Exports of UHT cream in particular have grown rapidly – more than doubling in the past two seasons," Spurway said. "Much of this growth has been fuelled by Asia as they look to include more dairy in their diet."
To meet Asian demand, the co-op rolled out a line of UHT milk products late in 2016 for the Chinese market under the Anchor brand.