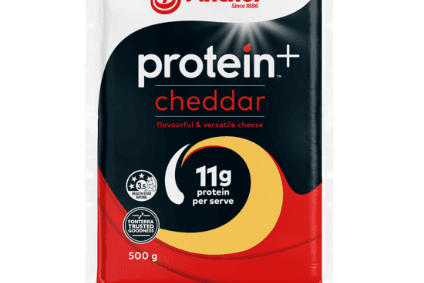 just-food publishes the most notable product development from the international food sector, presented in bitesize format to give you a flavour of the innovation from your peers and competitors announced this week.
Fonterra brings back Anchor cheese to New Zealand shelves
New Zealand dairy giant Fonterra is returning to the cheese category with the addition of two new products to its traditional Anchor range.
Fonterra is adding Anchor Protein+ and Zero Lacto to its original Tasty, Colby and Edam cheeses as it seeks to address the needs of health-conscious consumers.
Protein+ contains 26% more protein than the Tasty variety, while Zero Lacto is being introduced as an extra option for those who are lactose intolerant.
Clare Morgan, director of marketing for Fonterra brands in New Zealand, said of Zero Lacto: "While most hard cheese is naturally low in lactose this is batch tested to ensure there is no lactose, providing a guaranteed lactose-free cheese option.
"We're excited to see our Anchor cheese in the fridges. It's giving Kiwi's back one of the most trusted and liked brands in cheese."

Nestle uses "exciting" sugar R&D to launch Milkybar Wowsomes
Nestle has announced the first product it has developed using the world's largest food maker's "innovative sugar-reduction technique".
The Swiss food giant said Milkybar Wowsomes contains "30% less sugar than similar chocolate products" and would go on sale in the UK and Ireland.
Nestle claimed it created "aerated, porous particles of sugar that dissolve more quickly in the mouth", which gives consumers the perception of the "same level of sweetness as before while consuming less sugar". The innovation, it added, was "inspired by candy floss".
Milkybar Wowsomes, which also contain oat cereal pieces, will hit the UK and Ireland "in the coming weeks", Nestle added.
The chocolate is available in three formats: an 18g single bar, eight-bar multipack and a 105g "stock-up bag" containing individually-wrapped pieces.
The 18g bar contains 95 calories; a 25g standard Milkybar has 137 calories.
Daiya Foods adds to range
Canadian plant-based food manufacturer Daiya Foods has expanded its range of products with a clutch of "comfort foods".
The company, taken over by Japan's Otsuka Pharmaceutical last year, has launched a line of burritos, an alternative to yogurt and a range of non-dairy, frozen desserts.
"Our new frozen novelties expand our current position in the frozen desert section with our cheesecake to the ice cream section. Also, our new burritos expand the Daiya brand from the frozen Pizza section to the frozen portable meal sections. This is all part of our broader strategy of providing delicious plant based food options for consumers throughout all times of the day," Dairy Foods vice president of marketing Michael Lynch told just-food.
The burritos have a suggested retail price of US$4.29, with the Daiya Duets yogurt alternatives touted at $2.49.