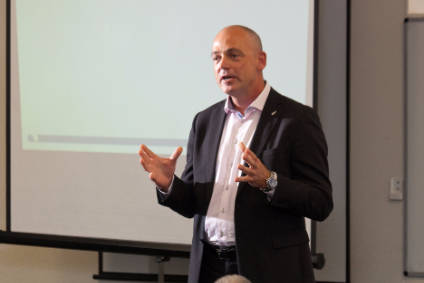 Theo Spierings, chief executive of New Zealand dairy giant Fonterra, has become the new chairman of industry body Global Dairy Platform (GDP).
Spierings, who has been a director on the GDP board since 2012, will succeed Dairy Farmers of America CEO Rick Smith, who has chaired the Illinois, US-based organisation since 2015.
"More than ever, people are turning to dairy for nutritional security and sustainable food and every day we see the good that dairy can do," Spierings said.
"We also recognise that the world will have more than two billion more mouths to feed by 2050. With food demand expected to increase by at least 50% in 2050, the challenge is how best to apply the goodness of dairy to the places and people that need it the most.
"Along with the role dairy plays in everyday nutrition, there is a real opportunity to work together and look at new ways we can make the nutritional benefits of dairy more available for those facing poverty and hunger and those fighting obesity.
"Through the Global Dairy Platform, we will continue to push forward with a global effort to make the goodness of dairy contribute more by providing better nutrition, empowering our communities and promoting sustainable agriculture."
Former chairman Smith said: "Over the last two years, GDP has provided strong leadership and strategic thinking to increase the credibility and visibility of the dairy sector in the international community, particularly within the United Nations.
"We have built a solid foundation to grow on."
Smith will continue to serve on the board, along with Arla Foods chief executive officer Peder Tuborgh and outgoing FrieslandCampina chief executive officer Roelof Joosten.