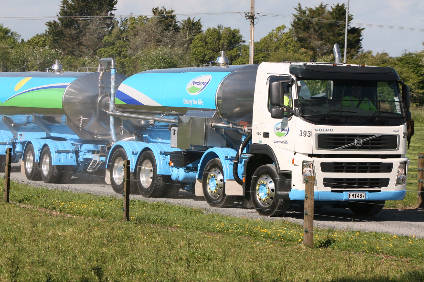 New Zealand's Fonterra, the world's largest dairy exporter, is to carry out a major review of its business after recording its first ever loss.
And its investment in Chinese infant formula business Beingmate could be ditched as a result.
Chief financial officer Marc Rivers said "all options were on the table" when asked during a media call whether the review could result in Fonterra selling its 18.8% stake in Beingmate.
Fonterra posted a net loss after tax of NZD196m (US$128.5m) for the year ending in July. In the previous year it recorded a profit of NZD745m.
The cooperative blamed higher costs and heavy one off charges for its poor financial showing – including the US$125m it was ordered to pay French food group Danone in December over a recall linked to a contamination scare that turned out to be a false alarm.
And it was forced to write down NZD439m on its Beingmate investment.
Fonterra's interim chief executive, Miles Hurrell, said: "There's no two ways about it, these results don't meet the standards we need to live up to. In FY18, we did not meet the promises we made to farmers and unit-holders."
"At our interim results, we expected our performance to be weighted to the second half of the year. We needed to deliver an outstanding third and fourth quarter, after an extremely strong second quarter for sales and earnings – but that didn't happen."
Expanding on the reasons for the recorded loss, Hurrell said: "First, forecasting is never easy but ours proved to be too optimistic. Second, butter prices didn't come down as we anticipated, which impacted our sales volumes and margins. Third, the increase in the forecast farmgate milk price late in the season, while good for farmers, put pressure on our margins. And fourth, operating expenses were up in some parts of the business and, while this was planned, it was also based on delivering higher earnings than we achieved.
"Even allowing for the payment to Danone and the write down on Beingmate, which collectively account for 3.2% of the increase in the gearing ratio, our performance is still down on last year."
Fonterra took a stake in Beingmate in 2014, hoping to tap into the huge potential demand for infant formula in China. But the venture has been a troubled one.
In February 2017 Beingmate's earnings fell by 870% on the back of a counterfeiting scandal and in April this year it issued a de-listing warning after recording a second straight loss.
At the start of this year there were clear signs that the relationship between the joint venture partners had deteriorated. In January Fonterra expressed concern over losses at Beingmate while Beingmate blamed Fonterra for those losses.
Hurrell took over as interim CEO at Fonterra in August. Former CEO Theo Spierings stood down in March after a first-half loss was declared.