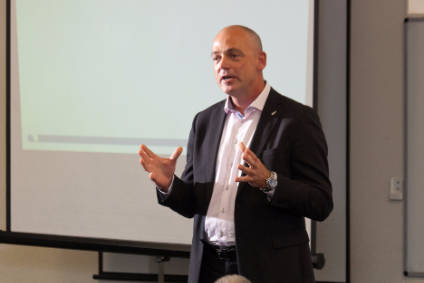 Fonterra has rebuffed talk CEO Theo Spierings may step down from the helm of the world's largest dairy exporter.
A report from The Australian claimed Spierings could depart after almost five years in the job. The newspaper suggested Christopher Luxom, the chief executive of Air New Zealand, had been lined up to replace Spierings.
"This rumour is completely untrue," a spokesperson for Fonterra told just-food today (31 May).
Fonterra announced the appointment of Spierings in July 2011. Spierings' previous role had been as chief operating officer for consumer products at Dutch dairy group FrieslandCampina. He left the business in 2009. Spierings had been acting CEO of Friesland Foods when the company merged with local rival Campina in 2008.
During his tenure, Fonterra has sought to expand in emerging markets including China and Indonesia.
However, Fonterra has faced notable challenges, including the 2013 scare over a batch of the company's whey protein, which it was feared contained a bacteria that could cause botulism. It turned out the ingredient did not contain the bacteria but Fonterra had recalled the ingredient, which in turn prompted customers including Danone and Abbott Laboratories to pull infant formula products that could have been affected.
In Fonterra's last full financial year, which ran until the end of July 2015, the company posted net profit after tax of NZD506m for the 12 months to the end of July, up from NZD179m a year earlier. However, in the previous year, Fonterra booked net profit of NZD736m.
Fonterra said its normalised EBIT reached NZD974m, compared to NZD503m a year ago. A year earlier, the company booked normalised EBIT of over NZD$1bn.
Revenue was down 15% at NZD18.8bn. Volumes grew 9%. Amid a slump in dairy commodity prices, Spierings said the year had been "one of the most difficult I've known".