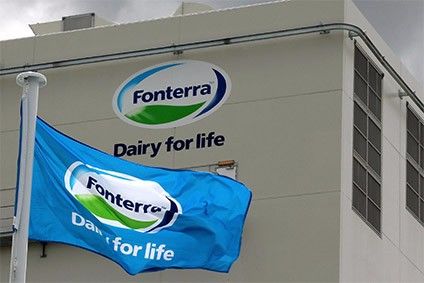 Fonterra has revealed it has seen pressure on the profits generated by its ingredients business but the New Zealand dairy behemoth kept its forecast for annual earnings.
The world's largest dairy exporter still expects to generate earnings per share of NZD0.45 to NZD0.55 despite what chairman John Wilson said were "challenges" in the third quarter of the company's financial year.
Fonterra posted an 8% rise revenue to NZD13.9bn for the first nine months of its financial year, boosted by higher milk prices.
However, CEO Theo Spierings said Fonterra's ingredients division had seen its profits reduced.
"The closing of the relative price gap between reference milk price products and non-reference products has reduced overall profitability in our ingredients business," Spierings said.
He added: "Our volume-to-value strategy continues to drive our performance in the ingredients and consumer
and foodservice businesses. Margins in most of our businesses are similar to last year, and we have moved an additional 350 million liquid milk equivalent into higher-value products in the year to date. Consumer and foodservice
volumes in Greater China in particular have grown by 40% in the period."
The trading update also saw increase its 2016/17 forecast farmgate milk price by NZD0.15 to NZD6.15 per kgMS.