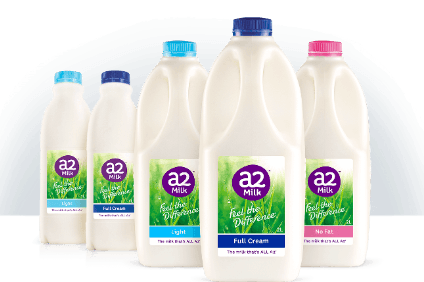 Fonterra has struck a deal with A2 Milk Co. covering the manufacturing and distribution of its smaller, fast-growing New Zealand dairy peer's products.
The companies today (20 February) announced a "comprehensive strategic relationship" that will see the businesses team up to sell a range of A2 Milk products in New Zealand and overseas.
Formed in 2000, New Zealand's A2 Milk Co. has built a growing business supplying domestically and in select international markets dairy and infant-formula products that do not contain the A1 protein it claims causes discomfort.
As A2 Milk Co. started to build the presence of its products in New Zealand, the company sparked questions about the veracity of the claims it was making on its products from companies including Fonterra.
What A2 Milk Co. called "the initial scope" of the deal with Fonterra will see the companies work together on a number of initiatives.
Fonterra will hold the exclusive licence to make and sell A2-branded fresh milk in New Zealand. The world's largest dairy exporter is to exclusively supply nutritional milk powder in bulk and consumer formats for A2 Milk Co. in markets in south-east Asia and the Middle East. The supply part of the partnership will also see Fonterra and A2 Milk Co. to set up a co-owned packaging facility.
The companies, meanwhile, are weighing up launching A2-branded butter and cheese, as well as liquid milk sourced in China.
To underpin these initiatives, Fonterra and A2 Milk Co. will work on developing a supply of milk from New Zealand and Australia that does not contain the A1 protein.
"The partnership is intended to fast-track market growth and this creates opportunity for our farmers to create additional value from their milk," Fonterra CEO Theo Spierings said.
"It is a win-win for both companies. We continue to see a strong future for dairy based on our existing range of products, including recent additions such as organic, low-lactose and high protein milk choices that consumers seek out for a premium. The A2MC products promoted by this partnership sit well within our overall portfolio of products.
"Consumers like to have choices and the growth of A2MC branded nutritional powders and fresh milk sales in Australia, for example, shows the potential. This partnership is all about finding ways to continue to delight our consumers and generate more value for our farmers."
Geoffrey Babidge, A2 Milk Co.'s outgoing managing director and CEO, said the deal offers the company "a range of significant medium and long-term opportunities".
Babidge, who is stepping down later this year after eight years at the helm of A2 Milk Co., added: "The nutritional products manufacturing and supply agreement will provide A2MC with a highly-credentialed second manufacturer to support the ongoing growth of the company's nutritionals business. The partnership will also provide access to large scale manufacturing performance and competitive terms within a global context.
"The company has been evaluating the best approach to build a meaningful position for A2 Milk-branded fresh milk in New Zealand for some time. In our view, the relationship with Fonterra is the ideal model to build brand awareness and deliver a consistent high-quality product to the broadest customer base in this market.
"The opportunity to work together with Fonterra to explore new markets and products is also significant. Fonterra's resources and capability in many of our new priority markets should provide a basis to more quickly expand distribution of A2MC-branded nutritional products. Over time, additional markets and products may be added to this initiative."
In the year to the end of June, A2 Milk Co. generated net profit after tax of NZD90.6m (US$66.6m), up sharply from NZD30.4m a year earlier. The business' EBIT more than doubled from NZD51.8m to NZD138.5m.
The growth in profits came on the back of robust sales. The owner of A2 Platinum infant formula saw its revenue jump 56% to NZD549m, with sales from its combined Australia/New Zealand division and from its China arm growing strongly.
Alongside the announcement of A2 Milk Co.'s deal with Fonterra, the company reported the financial results for the first half of its current financial year.
In the six months to the end of December, A2 Milk Co. made revenue of NZD434.7m, up 70% on the corresponding period the previous year. It generated a net profit after tax of NZD98.5m, more than double that posted in the first half of A2 Milk Co.'s previous fiscal period.