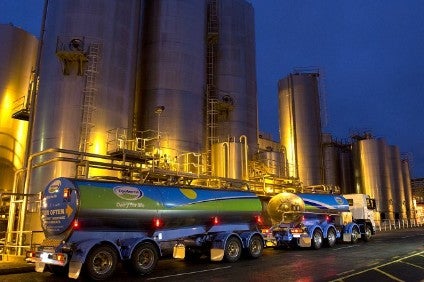 Fonterra today (10 August) warned its annual earnings per share could be "at or slightly below" its forecast level amid the higher milk prices facing the dairy cooperative.
The New Zealand dairy giant, which yesterday requested a halt in its trading of shares amid a possible change to its earnings forecast, said it had "held" the previously-announced guidance for normalised earnings per share to hit NZD0.25-0.30 (US$0.16-0.20) but was "indicating that it will be at or slightly below this range".
Fonterra added: "It is likely that the full-year dividend will be just the NZD0.10 already paid in April."
The world's largest dairy exporter is also reducing last season's 2017/18 forecast farmgate milk price to NZD6.70 per kilogram of milk solid from NZD6.75 per kgMS.
Fonterra chairman John Monaghan said the board has made these decisions in the "best long-term interests of its farmer shareholders and unitholders".
Monaghan said: "It is important for our cooperative to have a strong balance sheet and, as we indicated in May, the higher milk price, which is good for our farmers, has put pressure on Fonterra's earnings, and therefore our balance sheet in a year which was already challenging due to the payment to Danone and the impairment of the cooperative's Beingmate investment."
In December last year, Fonterra was ordered to pay French food group Danone US$125m over a recall linked to a contamination scare that turned out to be a false alarm. The long-running legal action – Danone took the decision to sue Fonterra back in January 2014 – followed the 2013 scare involving a Fonterra ingredient used by the French company that led to a recall based on erroneous information.
In March this year, Fonterra posted a first-half loss of NZD348m, hit by a NZD405m impairment charge linked to Beingmate, the Chinese infant formula business in which it is a shareholder.
"You never want to have to reduce the milk price at the season's end but it is the right thing to do and NZD6.70 remains a strong milk price.
"During the process of closing our books for the financial year end, the need for these actions has become clear. Our forecast performance is not where we expected it would be. While the numbers are not finalised, our margins were less than we forecasted right across our global ingredients and consumer and foodservice businesses."
Fonterra is due to publish its annual results on 13 September.