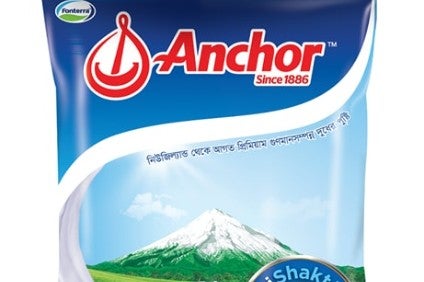 Fonterra, the New Zealand-based dairy giant, has lowered its forecast for annual earnings, pointing to a number of factors pressuring profits.
The company said today (28 February) it had reduced its forecast on earnings per share to NZD0.15-0.25, down from an estimate given in December of between NZD0.25 and NZD0.35 a share.
At the same time, Fonterra increased its forecast for its 2018/19 farmgate milk price due to the growth it had seen in global milk prices in the last three months, driven by demand in Asia.
However, CEO Miles Hurrell said Fonterra's underlying performance "is not where it needs to be".
He added: "The main pressure points on our earnings are the three we highlighted in our Q1 business update – that's challenges in our Australian ingredients and our foodservice businesses in wider Asia. We are making inroads in addressing them but they will not be solved overnight.
"Since our Q1 business update, we have also felt the impact of difficult trading conditions in Latin America, mainly due to geopolitical situations in some countries. In addition, the increase in milk price, which is the primary cost input into our non-milk price products, has put pressure on the margins for those products, and they significantly contribute to our earnings."
In September, Fonterra announced plans to carry out a major review of its business after recording its first-ever annual loss. Since then, the cooperative has offloaded a livestock unit and said it is looking to sell ice-cream business Tip Top.
Hurrell said the review was ongoing. "We remain committed to financial discipline. We are making good progress on our portfolio review and asset divestments in order to reduce our debt by NZD800m (US$547.4m) this financial year. We are also on-track to meet our targets for capital expenditure and operating expenses," he said.
Reflecting on trading, Fonterra chairman John Monaghan said while the milk price is "strong", the co-op's earnings performance "is not satisfactory".
He added: "The board is making solid progress with a full review of the strategy which includes a review of the dividend policy. We are taking a close look at our business with our portfolio review, where we can win in the world, and the products and markets where we have a real competitive advantage.
"We need a fundamental change in direction if we are to deliver on our full potential. We will provide an update on the strategy and the progress that has been made on the portfolio review at our interim results on March 20."
In stock-market filings, Fonterra also told investors it will not be paying an interim dividend. It said a decision on whether it would pay a full-year dividend "can only be made at the end of the financial year, and will depend on the co-op's full-year earnings and balance sheet position".