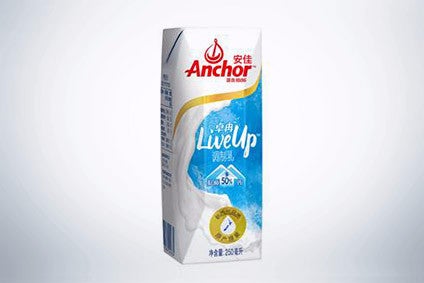 New Zealand dairy group Fonterra is rolling out a "premium" line of milk products in China under the Anchor brand.
The range, called Upline, will feature two new UHT products: LiveUp, with 50% more protein than standard UHT, and NaturalUp, which is made from organic milk produced in New Zealand.
Both products are available via e-commerce and LiveUp will be rolled out to physical stores throughout China in the coming months, Fonterra revealed.
The company said the move comes in response to "ongoing growth in demand" for dairy in the market. Christina Zhu, president of Fonterra's operations in Greater China, said the new products build on the strength of the Anchor brand and will help meet changing consumer needs in China.
"These products highlight the best of what New Zealand offers; a trusted, pure source of milk with high nutritional value," Zhu said. "They are a response to changing consumption patterns, where Chinese consumers are increasingly seeking out more premium and healthy options."
According to research from the Boston Consulting Group, 73% of Chinese consumers are willing to pay a premium price for items proven to be healthier. This is 12% above the worldwide average, Boston noted.
"Pushing more into this high-growth premium space is a natural progression for the Anchor brand, which has been performing well since it launched in China in late 2013," Zhu contined.
Jacqueline Chow, chief operating officer of global consumer and foodservice at Fonterra, added the launch is part of the company's strategy to grow its portfolio of consumer brands. "The new range is an example of our co-op converting more of our farmers' milk into high value products."
Last month, Fonterra revealed it is investing to increase its production capacity for UHT products in order to meet growing demand in China.