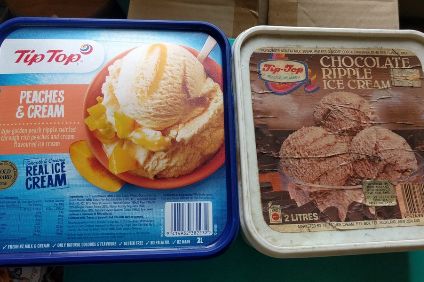 New Zealand dairy giant Fonterra has revealed that it is seeking a buyer for its domestic ice cream business Tip Top.
The company said it has to divest assets to help it reduce debt levels.
Fonterra, the world's largest dairy exporter, made a loss in its 2018 financial year, its first ever.
In an announcement to the market yesterday (5 December), the co-operative's chairman, John Monaghan, said: "We are also looking at our on-going ownership of Tip Top and have appointed FNZC as our external advisor to work with us as we consider a range of options. We want to see Tip Top remain a New Zealand based business and this is being factored into our options.
"While performing well, Tip Top is our only ice cream business and has reached maturity as an investment for us. To take it to its next phase successfully will require a level of investment beyond what we are willing to make."
The company has also issued further clarification on the future of its Darnum plant in Australia.
Yesterday it was revealed Fonterra and Chinese infant formula business Beingmate are to unwind the Darnum joint venture which products including infant formula for Fonterra, Beingmate and other customers.
In its latest announcement, Fonterra said it will be taking sole control of the plant.
It said: "We have reached an agreement in principle with Beingmate that will see us return to full ownership of the Darnum plant by 31 December 2018 and enter into a multi-year agreement for Beingmate to purchase ingredients from us."
Elsewhere in a first-quarter business update, Fonterra said it is facing headwinds in China.
Chief executive Miles Hurrell said: "The lower gross margins and sales volumes in Greater China foodservice and Asia foodservice in Q1 are mainly due to the high sales volumes of butter and cream cheese at the end of Q4 2018, a slightly slower start to sales of UHT culinary cream and more sales of UHT milk which has a lower margin relative to our other products.
"We are expecting our sales to lift as we are seeing strong sales from our distributors off the back of demand in China for New Zealand made products, particularly our UHT culinary creams. We are also prioritising value and moving away from lower margin contracts."
Fonterra's first-quarter revenue of NZD3.8bn (US$2.61bn), is down 4% on a like-for-like basis.
Monaghan said: "We are still some months off from completing the full portfolio review of assets, investments and partnerships. We are moving quickly to meet our commitment to reducing our debt levels by NZD800m by the end of the financial year. This requires both improved performance from last year and the divestment of assets."
In August Fonterra told its shareholders it was facing "profound challenges".