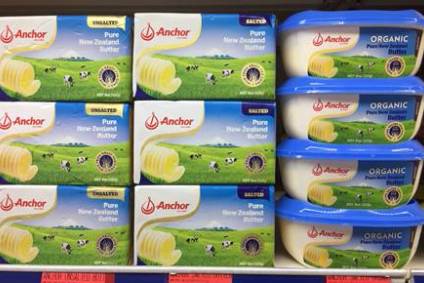 Fonterra has named long-standing executive Miles Hurrell its new interim CEO as the dairy giant looks to "take stock" after seeing its chief executive and chairman both stand down this year.
Hurrell, who has worked for the New Zealand-based business for 18 years, takes the role with immediate effect. Theo Spierings, who Fonterra announced in March would step aside after six years at the helm, will work alongside Hurrell until 1 September.
Last month, Fonterra said chairman John Wilson had stood down from that post for health reasons.
Announcing Hurrell's appointment today, recently-installed chairman John Monaghan said Fonterra would pause its search for a permanent replacement for Spierings.
Monaghan acknowledged Fonterra's board knew it was "not best practice" to have the co-op's chairman and CEO stand down at the same time but said events had overtaken that decision.
"I have agreed with the board that we will stop the global CEO search while we review the cooperative's current portfolio and direction," Monaghan said.
"It's important that we give ourselves the time to take stock of where we are as a cooperative, breathe some fresh air into the business, then determine any changes that are needed. Appointing a new CEO is the most critical decision a board will make. We will take all the time we need to find the right person."
Hurrell will move from his position of COO for Farm Source – the Fonterra unit responsible for working directly with the cooperative's farmer-owners.
He said: "Theo leaves behind a talented leadership team that includes some of the best minds in global dairy. I've been privileged to be part of that group for the last four years and I'm totally confident that, by working as a team, we can deliver on the expectations New Zealand has of us.
"As a group, we haven't always got everything right. Those lessons will be invaluable as we face up to [the] challenges that are in front of us.
"We are already a number of weeks into our new financial year, so I'm keen to get straight into it and ensure the business lives up to the commitments it has made to our farmers and unitholders for the year ahead."
Last week, Fonterra issued a note of caution on its earnings, warning its annual earnings per share could be "at or slightly below" its forecast level amid the higher milk prices facing the cooperative.
The world's largest dairy exporter also reduced last season's 2017/18 forecast farmgate milk price to NZD6.70 per kilogram of milk solid from NZD6.75 per kgMS.
Monaghan said last week the board has made these decisions in the "best long-term interests of its farmer shareholders and unitholders".
He added: "It is important for our cooperative to have a strong balance sheet and, as we indicated in May, the higher milk price, which is good for our farmers, has put pressure on Fonterra's earnings, and therefore our balance sheet in a year which was already challenging due to the payment to Danone and the impairment of the cooperative's Beingmate investment."
In December last year, Fonterra was ordered to pay French food group Danone US$125m over a recall linked to a contamination scare that turned out to be a false alarm. The long-running legal action – Danone took the decision to sue Fonterra back in January 2014 – followed the 2013 scare involving a Fonterra ingredient used by the French company that led to a recall based on erroneous information.
In March this year, Fonterra posted a first-half loss of NZD348m (US$251.4m), hit by a NZD405m impairment charge linked to Beingmate, the Chinese infant formula business in which it is a shareholder.