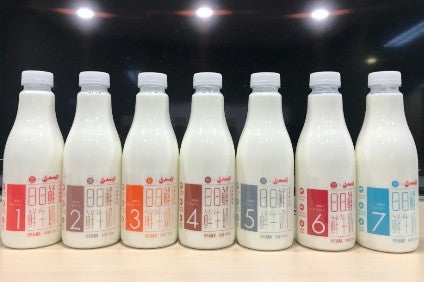 Fonterra has teamed up with Chinese e-commerce giant Alibaba in a deal that will see the New Zealand dairy business sell fresh milk in China for the first time.
It has signed a partnership deal with Hema Fresh, a bricks-and-mortar retail arm of Alibaba.
A new Daily Fresh milk range is being made available in Hema's 14 stores in Shanghai and Suzhou in 750ml bottles, sourced from Fonterra's farm hub in Hebei province. The product has labels to match each day of the week in order to emphasise freshness, with stock being replenished overnight ready for each new day.
Initial volumes are around three metric tonnes daily, with plans to scale-up over time and expand into stores across China.
Hema already sells Fonterra's Anchor UHT milk, butter, cream and cheese. The retailer is also a foodservice customer, using Fonterra's Anchor Food Professionals products in its in-store bakery.
Christina Zhu, president of Fonterra'sd operations in Greater China, said selling fresh milk meets growing domestic demand for higher-quality fresh products, as part of the "premiumisation" of China's consumer categories.
"Shoppers here in China are becoming increasingly sophisticated in terms of their tastes and preferences, which are being driven by rising household incomes," she said.
"More than ever before, consumers are consciously seeking products that are fresh, nutritious and safe, and our new product for Hema caters to this.
"This milestone with Hema is a sign of things to come and indicates that our push to shift more of our local milk into higher-yielding consumer and foodservice products is well-and-truly underway."
Hema Fresh CEO and founder Hou Yi added: "This co-operation between two powerful companies is set to redefine the concept of fresh milk in the new retail era.
"As a global leader in the dairy industry, Fonterra is well-known for quality milk pools, world-class breeding techniques and advanced experience in food safety and quality, which matches well with what we advocate."
With Hema, which emerged on the scene in early 2016, consumers can either shop in-store using their mobile phones to browse and purchase, or order online for a 30-minute delivery within a three kilometre radius.
Fonterra is a dairy co-operative owned by 10,500 farmers.