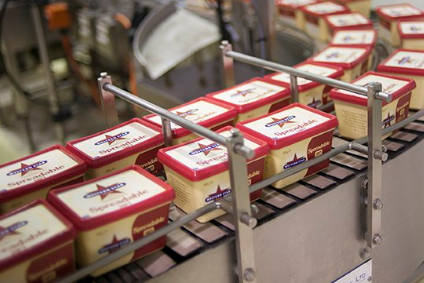 New Zealand's Fonterra plans to invest AUD165m (US$133m) across production sites in Australia this year as the dairy company seeks to increase milk volumes.
Of the total, AUD130m will be allocated to add 500m litres of milk capacity, and AUD35m will be used to upgrade production sites as part of Fonterra's "regular capital investment plan in Australia", according to a statement today (24 January). The capital expenditures are expected to create about 36 jobs.
René Dedoncker, managing director of Fonterra's Australian arm, said: "We have a clear strategy that is delivering sustainable returns. To create value, we need to invest to stay ahead of the demand curve. These investments support our aim to secure positive returns back to our farmers on both sides of the Tasman.
"Fonterra Australia will play to its strengths in cheese, whey, nutritionals, and butter, increasing production capacity to meet rising domestic and global demand, but filling its expanded capacity would mean securing more supply."
Breaking down the numbers, Fonterra said AUD125m will be put into increasing cheese production at its facility in Stanhope, northern Victoria, and doubling daily milk volumes. As a result, the size of the plant will double and cheese volumes will increase by 35,000 metric tonnes, from 45,000 currently.
In Tasmania, two factories will get AUD12m. The Wynyard cheese site will benefit from expansion plans, which will see annual cheddar cheese production rise by 3,900 metric tonnes, and annual daily milk volumes increase from 1.3m litres to 1.5m. Fonterra is also investing at the site at Spreyton to boost its lactose processing capacity.
Another AUD7m will be invested to expand the Darnum plant in Gippsland to support higher output of nutritional powders, and whole and skimmed milk for domestic and international markets, as well as the installation of two robotic "palletisers" in Bayswater in eastern Victoria to improve efficiency.
Projects at Cobden and Dennington in western Victoria will each get AUD13.5m and AUD8.6m, respectively. The former will see improvements to its butter plant, which produces the company's Western Star brand. Dennington is getting a new 25 kilogram packing line for nutritional powders.
Dedoncker said: "Our Australian milk pool has grown by 400 million litres this season, and with this new investment we plan to grow our milk further, which we expect will come through growth from our existing farmers who wish to grow, coupled with milk from new suppliers joining Fonterra."