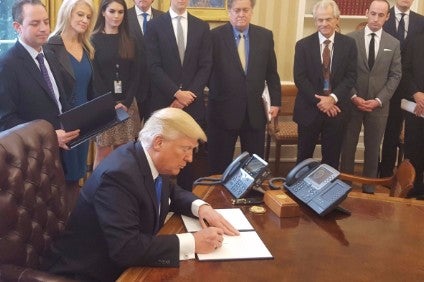 Agri-food businesses and meat producers in the US are calling on President Donald Trump to move quickly to strike bilateral trade deals with Asia-Pacific nations because the region is "critical" for US exporters who risk "falling behind" competitors.
The move follows Trump's decision to pull the US out of the Trans-Pacific Partnership (TPP) trade agreement shortly after taking office last month, because he said it was not in the national interest.
However, a letter signed by nearly 90 agri-food organisations and a joint letter from the National Pork Producers Council (NPPC) and National Cattlemen's Beef Association (NCBA) urge the new administration to prioritise Asia-Pacific trade.
The agri-food industry letter, signed by firms including Conagra Brands, Campbell Soup Co., Cargill and Tyson Foods, said: "While many in our sector strongly supported the Trans-Pacific Partnership, we hope future agreements build upon the valuable aspects of that agreement to increase our market access in the Asia-Pacific. We welcome an opportunity to work with your administration to ensure that America's farmers, ranchers, processors and food companies do not fall behind our foreign peers in this vitally important economic region."
NPPC president John Weber and NCBA president Craig Uden urged the president "to initiate free trade agreement negotiations with nations in the Asia-Pacific region beginning with Japan". They added: "While we may not agree with the decision to withdraw from the TPP, we respect that this is the position of the US government and we request that you prioritise securing strong market access to Asia-Pacific markets for US beef and pork exports."
The NPPC-NCBA letter said: "Japan is our highest value international market for both beef and pork exports. In fiscal 2016, Japanese consumers purchased US$1.4bn of US beef products and US$1.5bn of US pork products. Analysis by the US International Trade Commission found that beef exports to TPP countries would grow by $876m per year by the end of the phase-in period and that most of that growth would be in trade to Japan. Likewise, it found that pork exports to TPP countries would grow by $387m, with most again being to Japan. Nearly 9,000 US jobs would be generated by the increase in exports of livestock products, according to USDA's export multiplier."
"We realise that our competitors are doing their best to secure preferential trade agreements in many of these markets, and we are concerned that if we do not act soon, we will fall further behind our competitors in these important markets," the NPPC-NCBA said.