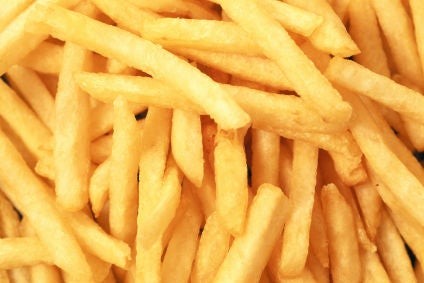 Food manufacturers are considering a proposed EU law to introduce mandatory measures aimed at reducing acrylamide in food products.
A spokesperson for FoodDrinkEurope, the organisation representing food manufacturers operating in the EU, told just-food today (12 June) it was studying the draft law, published by the European Commission, which would force manufacturers to comply with "benchmark" measures to reduce acrylamide in foods.
The consultative move by the Commission comes after the European Food Safety Authority (EFSA) linked the presence of acrylamide – a chemical produced by the same process that browns food – to potentially increased cancer risks in consumers of all age groups.
The EFSA said "coffee, fried potato products, biscuits, crackers and crisp breads, soft bread and certain baby foods are important dietary sources of acrylamide".
According to the Commission's draft law, food business operators (FBOs) that produce or sell a range of foodstuffs including french fries, other "deep-fried products", breakfast cereals, cookies and crispbreads, would be required to "apply mitigation measures".
Mitigation measures proposed include the establishment by FBOs of a register of "heat-treated ingredients" which contain 150 micrograms of acrylamide per kilogram or more". FBOs would also be required to "carry out audits of suppliers and/or analyses, to ensure that no changes are made by the supplier of such ingredients that increase acrylamide levels".
In addition, FBOs would be required to "identify potato varieties with lower acrylamide forming potential in cultivation, storage and during food processing". Frying oil temperatures for products should also "be as low as feasibly possible on a specific line and for the specific product", the draft said.
"Where frying oil temperatures at the exit of the fryer is higher than 168°C due to a specific product, design or technology, then the FBOs shall provide data demonstrating that the level of acrylamide in the finished product is as low as reasonably achievable," the draft said.
Under the proposals, the Commission said it would review the measures every three years.
The FoodDrinkEurope spokesperson said: "The proposal has just been published by the Commission in a consultation process. We are now analysing the proposal before we can comment on it."