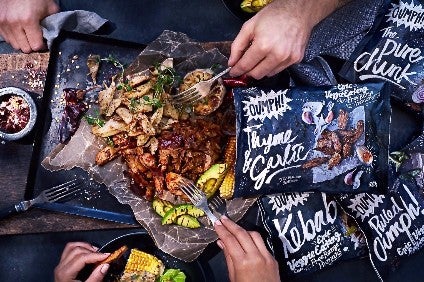 Sweden-based meat-free business Food For Progress has launched flagship vegan brand Oumph! in the UK – and is eyeing further moves in the country and the opening of more markets in Europe next year.
Privately-owned Food For Progress has secured listings at Whole Foods Market's stores in the UK and marketing director Henrik Åkerman said the company hopes to have lined up more retail customers – as well as a move into the country's foodservice channel – early next year.
"We had interest most of the major [UK food retailers] and interest also from the horeca, foodservice sector. We have a good dialogue already and, hopefully, we will sign a few of them shortly to get a good distribution in the UK," Åkerman said. He declined to name the retailers and foodservice operators with which Food For Progress had held discussions.
Speaking to just-food at the UK launch event for Oumph! at Whole Foods' Kensington store in central London, Åkerman said Food For Progress had chosen to work with the upmarket US grocer's stores in the country despite interest from other retailers.
"We decided to go with Whole Foods because it was a small and credible partner to test our concept here and we see it as a platform for going further," Åkerman explained. "We were holding back a bit because we wanted to get the product out on the market and test all the distribution systems and get everything set up. We didn't want to do that with a partner that was too big."
In Sweden, Oumph! is sold in a number of the country's largest food retailers and foodservice chains. Åkerman, who joined Food For Progress at the start of the year from Sweden fast-food chain Max Hamburgerrestauranger, said the company had been able to have the Oumph! logo placed on menus at some restaurant operators in its domestic market. He argued foodservice can act as "not just a sales channel but also a marketing channel" for the brand.
"Food For Progress is about driving change. Restaurant chains are very important for us," Åkerman said. "Our target group is not only vegans or vegetarians and our ambition is not only to make a vegan buy one product instead of another. Then you have no change. We want to reach the flexitarian, to get more people into the category. Foodservice and restaurants are almost like a marketing channel. You are much more open about trying new stuff and less traditional than if you are in the retail stores [where] you have a hard time figuring out what to eat – and it's probably the same as what you had to eat next week."
The company has had talks with foodservice chains in the UK, with some expressing interest of including the Oumph! logo on menus. Åkerman said the business was "hopeful" Oumph! could be launched in the channel "during this fall or early next year".
Food For Progress manufactures in Sweden but Åkerman was sanguine about the challenge of importing into the UK at a time when the value of sterling is low. "The UK is a tough market even without Brexit because there is high competition and low margins," he said. Oumph!, he said, is being sold at a "premium" price compared to rival brands due to the cost of manufacturing the product.
Oumph! is marketed across the Nordic region and is the largest of Food For Progress' brands, which also includes Beat, a range of products centred on beans. Åkerman declines to disclose the annual sales or profits generated by Food For Progress, which operates from four divisions – brands, private label, joint ventures and trading.
However, he disclosed that Oumph! could be launched in other European markets in the new year.
"We have discussions on several markets," Åkerman said. "It's important to get Oumph! a good start with good partners. We don't want to grow too fast. We want to grow with quality and we can't do everything at the same time. We're still a pretty small organisation from the northern part of Europe but we will definitely be going to the bigger markets in Europe and, if we have a good success here in the UK, hopefully we will be in other European markets of similar size next year – Benelux, Germany, Austria, Switzerland maybe as a cluster, France could be interesting.
"We have some discussions in Australia as well. The initial set-up would probably be shipping it there but then we may also start producing it locally."