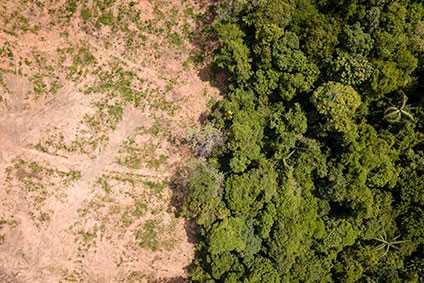 Major food groups have joined forces with large UK retailers and agri-food businesses to urge the country's government to do more to aid the fight against global deforestation.
In a letter today (5 October) to UK Environment Secretary George Eustice, signed by food businesses including Mondelez International , Nestle and Unilever as well as 'big four' supermarket chains Tesco , Asda, Sainsbury's and Morrisons, the Government is being pressed to use forthcoming legislation to get tough on deforestation abusers.
The letter, also signed by food groups Greencore, Hilton Food Group , Pilgrim's Pride , Cranswick and Young's Seafood , has asked the UK government to make changes to its forthcoming Environment Bill to help close potential loopholes and to make supply chain activity transparent.
"The government's proposal to introduce a due diligence requirement on business is welcome as we recognise that the private sector has a critical role in addressing global deforestation," the letter said.
"We are fully supportive of the government's intention to develop a coordinated strategy to set a level playing field where sustainable commodities are the norm throughout the UK and beyond. To that end, we encourage the government to go further in the proposed Environment Bill to ensure that this opportunity establishes an effective, workable, and cost-effective framework for halting all forms of deforestation."
The UK government revealed in August that it is planning to introduce legal penalties for companies found to be complicit in deforestation with large companies having to report on how they source tropical commodities. The companies would also be banned from using products that are harvested illegally in their country of origin.
But the food companies and supermarkets which signed the letter want the new rules to apply to all deforestation – not just in cases where the destruction is illegal.
"Restricting action to illegal deforestation only would not achieve halting the loss of these natural ecosystems, especially when producing country governments have discretion to decide what is legal or have inadequate enforcement mechanisms, and local land title and clearance records can be unreliable or absent," the letter said.
They also want the legislation to cover small companies as well as large ones.
The signatories said they applaud the effort of the government to bring forward legislation that will create a level playing field but suggested that more needs to be done.
"This is a step forward, but it's not currently envisioned to be enough to halt deforestation and we encourage the government to go further to embrace requirements that will address this issue," the letter said.
just-food asked the UK government's Department for Environment, Food & Rural Affairs (Defra) for its response to the letter.
A spokesperson said: "The UK government is committed to tackling deforestation, and the consultation we have launched to introduce a due diligence requirement is just one part of a much bigger package of measures that the government is taking.
"We look forward to continued dialogue with UK businesses who are using these commodities in their supply chains, including through the Soy and Palm Roundtables, which we actively support."
Last month, aeventeen of the world's largest FMCG groups and retailers launched another bid to tackle deforestation under the auspices of The Consumer Goods Forum after falling short of a 2020 goal tabled a decade ago.