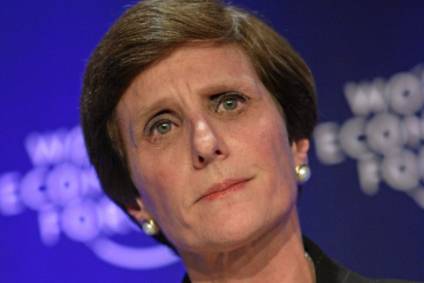 The food industry is evolving at a faster pace than ever and companies are having to adapt to "cosmic changes" in the sector, outgoing Mondelez International CEO Irene Rosenfeld has said.
However, Rosenfeld, who is set to step down as the Cadbury maker's chief executive later this month, sought to play down any anxiety among some players and investors about the scale of the challenge facing packaged food manufacturers, insisting companies have adjusted to times of change in the past.
Speaking to Wall Street analysts after Mondelez reported its third-quarter financial results, Rosenfeld was asked for perspective on the industry amid changing consumer habits, growing competition from fledgling companies and the development of e-commerce.
"As I have witnessed the evolution of the industry, there have been cosmic changes every couple of years throughout that tenure, whether you think about the advent of the supercenter, the beginning of the rise of e-commerce. We have seen many different trends and those companies that have been successful have seen those trends coming and have addressed them. I don't think this is radically different. I do think the speed of the changes is perhaps more itself more pronounced than we might have seen in the past," Rosenfeld, who has been at the helm of Mondelez and, previously, forerunner Kraft Foods Inc. for more than a decade, said.
"I have great confidence as we look ahead, particularly to what we're seeing going on the consumer front, the customer front, and the channel shifts, that we're well positioned – but I do think companies have to take those cosmic changes quite seriously, and have to adapt accordingly."
However, she added: "I don't believe that this is a radically different set of circumstances than we would have seen in the past, they're different, but we've seen a fairly sizeable evolution in our industry over the last decade and the winners have adapted to it accordingly."
Former McCain Foods president and CEO Dirk Van De Put is set to formally replace Rosenfeld as chief executive on 20 November. Rosenfeld will continue as chairman of the Mondelez board until 31 March when she will retire.
Mondelez's margins have been a central talking point among the analysts covering the company and Rosenfeld was asked if Van De Put would reassess Mondelez's margin target for 2018 but she said the company was sticking to its goal of 17-18%.
"We fully understand that the margin targets are very much top of mind, and I can assure you that Dirk fully appreciates the importance of margin delivery to our overall algorithm. So I think in the spirit of you've got to wail until he gets here, I think we can give you as much assurance as that."
Mondelez's third-quarter results included a 2.1% rise in net revenue to US$6.53bn, with net revenue up 2.8% on an organic basis.
The company tweaked its forecast for its organic net revenue for 2017 as a whole. It now expects to grow by that metric by "approximately" 1%, versus an earlier forecast of at least 1%. Mondelez pointed to a larger-than-expected impact from the malware attack that hit the business this summer. The company said the attack cost it around $100m in revenue.