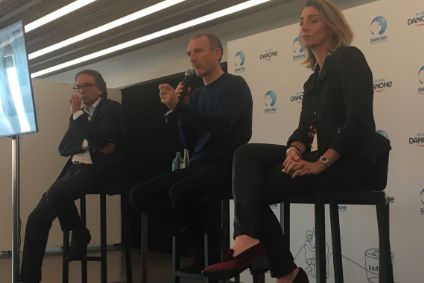 The food industry is becoming increasingly aware of the need to make its products healthier and more sustainable and is making gains, Danone chairman and CEO Emmanuel Faber has insisted.
Two years ago, Faber and Danone declared an "Alimentation Revolution" and urged the food industry to sign up to a "movement" that aimed to "nurture the adoption of healthier and more sustainable eating and drinking habits"
Asked yesterday (8 May) by just-food to give his verdict on the advances the food industry has made towards those goals, Faber said: "It's making progress. I think there is clearly a growing awareness in the large food companies and retail companies around the world about the needs to adjust and to self-disrupt in many, many ways."
The Danone chief pointed to a move made last year by a number of major consumer-goods companies to work on packaging. In October, some 250 organisations – including FMCG groups, retailers, NGOs and governments – signed a pledge on plastic packaging under the auspices of UK-based charity The Ellen MacArthur Foundation
"The board of the Consumer Goods Forum resolved to support the Ellen MacArthur Foundation's New Plastics Economy in October, which means that we support the policy that, by 2025, all packaging used by these companies will be recyclable, reusable or compostable," Faber said. "Some companies are ahead of the curve, some others are late but we came to this global resolution that we needed to support that."
Faber, speaking at a summit convened in Barcelona by Danone to mark the company's 100th anniversary, also indicated two other areas of sustainability of increasing interest to industry – biodiversity and the B Corp movement.
"I think you will see more this year about biodiversity. We see that theme coming up very clearly the multilateral, international global agenda. Business is going to be part of that as well," Faber said.
Earlier this week, a report, compiled by the Intergovernmental Science-Policy Platform on Biodiversity and Ecosystem Services, was published, detailing the impact humans are said to be having on nature. The report warned one million animal and plant species are threatened with extinction – and the need for greater food production was argued to be a key factor.
Faber, meanwhile, suggested there was growing recognition within the industry of B Corp certification. A B Corp company takes into account stakeholders in general when doing business, rather than holding as pre-eminent the return to its shareholders.
Parts of Danone's operations are certified as B Corp entities, including its North America division. At the time of writing, according to Danone's website, 13 of the company's entities have earned B Corp certification. The group says that translates to more than 30% of its global sales are covered by the certification.
"In meeting and discussing with colleagues, including about B Corp for instance, we have serious conversations with a couple of colleagues about them joining the B Corp crowd," Faber said.