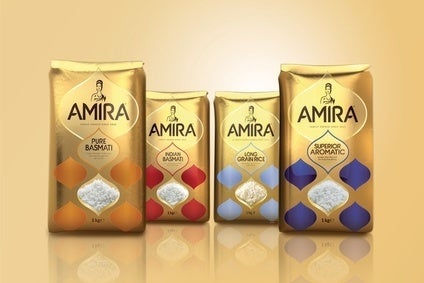 Campbell Soup Co., ConAgra Foods and Kellogg all indicated they are finding the going tough in the US this week with cuts to financial forecasts. Away from the results, however, it was global rice supplier Amira Nature Foods that grabbed the headlines after being accused of corruption.
Amira Nature Foods faces corruption allegations
Amira Nature Foods stock lost more than one-quarter of its value in New York yesterday (9 February) after allegations emerged that management breached listing rules by cooking the books and using company funds for "personal use".
Read the US-listed rice supplier's rebuttal of the allegations here.
Kellogg cuts long-term sales target
Kellogg today (12 February) lowered its long-term sales target, sending shares in the US cereal-to-snacks group sliding in New York.
Read our take on Kellogg's results and prospects here.
The just-food interview: R&R Ice Cream CEO Ibrahim Najafi
In a two-part interview, the CEO of Europe's number two ice cream manufacturer discusses its first acquisition outside the region and the challenges in its home market of the UK.
ConAgra cuts earnings forecast on PL woes, port dispute
ConAgra Foods has cut its forecast for annual underlying earnings, blaming continued weak profits from its private-label business and the impact of the labour dispute at ports on the US West Coast.
Campbell Soup Co. issues profit warning
Campbell Soup Co. has cut its annual forecasts for sales and earnings amid pressure on margins and the impact of the strengthening US dollar.
On the money: PepsiCo managing its way through "volatile market"
With its exposure to volatile currencies and growing instability in developing countries, PepsiCo saw macro-economic issues weigh on its performance in 2014. Conditions are expected to remain challenging in 2015 but the group remains confident it can continue to manage its way through such headwinds in the year to come.
10 Things To Learn: Mondelez's 2014 results and 2015 outlook
Mondelez International's shares rose on the back of a fourth-quarter earnings beat but the company's performance, particularly on its top line, was mixed in 2014. We list the key points from the Cadbury maker's results and its guidance for 2015.
US seeks WTO talks with China over export subsidies
The US has asked for talks at the World Trade Organization with China on concerns over Beijing's programme of export subsidies.
Gulfood 2015: Siro eyes Middle East entry with baby food range
Cerealto Siro Foods, the international business of Spanish food firm Grupo Siro, is eyeing entry into the Middle East market.
Focus: UK review into online ads shows more research needed
The publication of the UK's Committee of Advertising Practice (CAP) literature review on the impact of online food and drink advertising on children yielded few surprises and leaves many important questions unanswered.