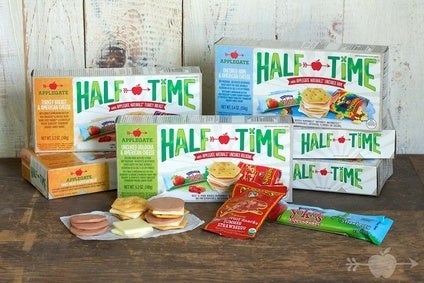 Hormel Foods' latest move to inject more growth into its business – a move for US organic meats firm Applegate Farms – grabbed the headlines this week. In Europe, France's Groupe Bel struck a deal in Africa and is to take a majority stake in Moroccan dairy Safilait.
In the spotlight: How the Applegate deal will benefit Hormel
Hormel Foods swooped to acquire natural and organic meat processor Applegate Farms earlier this week in a US$775m deal. In financial terms, the deal does not bring much to the table. Industry experts, however, have reacted favourably due to the long-term growth prospects of the natural and organic meat category. Hannah Abdulla explores what the deal means for Hormel.
Bel takes majority stake in Moroccan dairy Safilait
French cheese maker Bel has acquired a majority interest in Moroccan dairy firm Safilait from private equity firms Fipar Holding and Sopar.
Heinz moves to block Boulder's Smart Balance trademark entering frozen
Heinz has moved to block Boulder Brands' registration of its Smart Balance trademark for frozen foods.
FSA: 73% of supermarket chickens have campylobacter
The UK Food Standards Agency has issued its latest findings in the campylobacter study, revealing 73% of fresh shop-bought chickens tested positive for the bug.
Post sees 35% of egg supply hit as AI continues to spread
Post Holdings has warned that 35% of its egg supply has now been disrupted by the outbreak of avian influenza that is sweeping the mid-western US.
Bakkavor stake attracts "a number" of suitors
The sale of a stake in UK convenience group Bakkavor has attracted interest from "a number" of suitors – not just PAI Partners and Pamplona Capital – sources close to the sale process revealed today (25 May).
Post, Flowers, Bimbo among Hostess bidders – reports
Post Foods, Grupo Bimbo, Flowers Foods and ARYZTA are reportedly among the suitors that have made non-binding bids to acquire Twinkies owner Hostess Brands LLC from owners Apollo Global Management and C. Dean Metropoulos & Co.
Brussels alleges Grupo Riberebro in mushroom cartel
The European Commission has alleged Spain's Grupo Riberebro was involved in a cartel for private-label mushroom products that saw companies including Bonduelle fined last year.
Briefing: Latin America and dairy – Why Arla is upbeat about Latin American prospects
Arla Foods has invested significantly in overseas expansion, including in emerging markets, to look for avenues for future growth. The European dairy co-op's moves in developing markets have largely centred on Russia, China and Africa but it is also stepping up its activity in Latin America. Dean Best spoke to Arla executive vice president to find out more.
Interview: UK sausage firm Heck Foods eyes further growth
Set up in 2013 by the couple behind the Debbie & Andrew's brand, UK sausage maker Heck Foods has succeeded in becoming a national business and is eyeing expansion into its first overseas market. Dean Best spoke to one of the company's founders, Andrew Keeble, about Heck's growth, the competition in the UK and its bid to crack the Australian market.