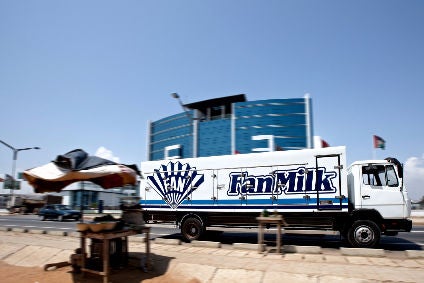 Africa's position as a market of growing importance for the world's dairy processors was underlined this week, with Danone and Arla Foods announcing moves to invest in the region. Conditions in the dairy sector, however, remain volatile, as shown by the 2015 results of Germany's largest dairy, DMK. Elsewhere, Campbell Soup Co. hailed the improvements it is making on its profitability but admitted parts of its US business are struggling to grow sales. Meanwhile, Australian baby food group Bellamy's posted strong first-half numbers and said its sales growth would quicken in the second half amid buoyant demand at home and in Asia.
Click on the headlines for more.
Danone today (23 February) revealed it has made two transactions in the last week in Africa, a continent the French group dubs "a strategic region" for the company.
Arla Foods today (24 February) outlined plans to invest in Nigeria's milk output in a bid to "improve" local raw milk production and quality.
Want Want China has set up a factory to produce dairy drinks, a plant that will be the Hong Kong-listed company's biggest.
Campbell Soup Co. praised its profitability in its second quarter but admitted its sales, on an underlying basis, had come in below expectations.
DMK, the Germany-based dairy group, booked lower sales and profits in 2015, with the co-operative pointing to "plummeting" global milk prices.
Nestle is launching Damak, its premium Turkish chocolate brand, in the US.
Bellamy's, the Australia-based baby food supplier, expects its sales growth to accelerate in the second half of its financial year after reporting an 83% jump in revenue in the six months to the end of December.
Mondelez International has revealed that it is facing enforcement action from the US Securities and Exchange Commission over alleged historical issues at its Cadbury India business unit.
With continued speculation over the future of Mondelez International's European cheese and grocery business, just-food's M&A columnist Stefan Kirk weighs up what kind of interest there could be in the asset, which features the Philadelphia brand.
E-commerce is becoming a channel upon which food manufacturers are placing increasing amounts of attention – and resources. In the first of a regular column on just-food, Keith Anderson, vice president of strategy and insights at e-commerce consultants Profitero, analyses the online opportunity for businesses, sets out how they can harness the growth in the channel and illustrates how some smaller brands are gaining an edge.