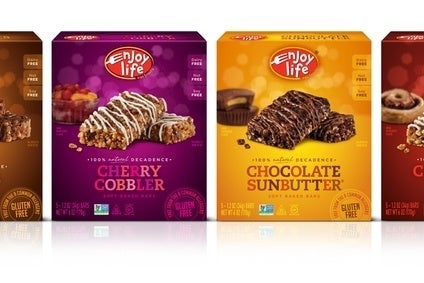 Mondelez International became the latest mainstream packaged food group to react to consumer trends in the US this week with a deal to buy free-from snacks maker Enjoy Life Foods. The acquisition came as many of the US industry giants were at the annual CAGNY investment conference in Florida to outline how they are trying to navigate the significant change in the sector.
Mondelez buys free-from snack maker Enjoy Life
Mondelez International has swooped for US free-from snack manufacturer Enjoy Life Foods in a bid to tap into rising consumer interest in their health.
Click here for an in-depth interview with Enjoy Life chief sales and marketing officer Joel Warady on why the company was looking for a "partner", what Mondelez's ownership means for the business and the fledgling firm's growth ambitions.
CAGNY 2015
The CEOs of Mondelez International, General Mills and Hain Celestial were among the senior US food industry executives presenting this week at the annual investment conference in Boca Raton, Florida and we covered the latest key insights on the sector to emerge from the event.
10 Things to Learn: Nestle's full-year results and the prospects for 2015
Nestle today (19 February) reported full-year results that were broadly in-line with expectations, along with a slight beat on margin. While the company is struggling to hit its medium-term organic growth target of 5-6%, the "Nestle Model", it is nevertheless seeing efficiency gains while investing in its advantaged brands and categories. Here are some key points from Nestle's full-year results.
Amira claims rival's support against corruption allegations
Amira Nature Foods, the US-listed rice supplier facing allegations of corruption, has issued a statement from India-based rival KRBL distancing itself from the claims and supporting the business.
FrieslandCampina promotes ingredients COO Joosten to CEO
FrieslandCampina has appointed Roelof Joosten, COO of its ingredients arm, to the post of chief executive after CEO, Cees 't Hart, accepted the the top job at Carlsberg.
Nestle removes artificial colours, preservatives from US chocolate
Swiss food giant Nestle is removing artificial flavours and colours from chocolate products sold in the US in response to growing demand for "clean" labels and natural foods.
Obama steps in to try to settle port dispute
The Obama administration is intervening in negotiations between dock workers and owners in a bid to resolve a labour stand-off that once again saw 29 west coast docks shut down this weekend.
On the money: Can Danone build growth in fresh dairy?
Danone's fresh dairy sales struggled throughout 2014. Nevertheless, as the world's largest dairy manufacturer, the company believes it can lead the category back to growth in stagnant markets like Europe and the US. Katy Askew reports.
Chocolate giants accused of unsafe metal levels in ranges
Hershey has rejected claims of "unsafe" lead and cadmium levels in some of its chocolate as "old" and insisted that they were "discredited years ago".