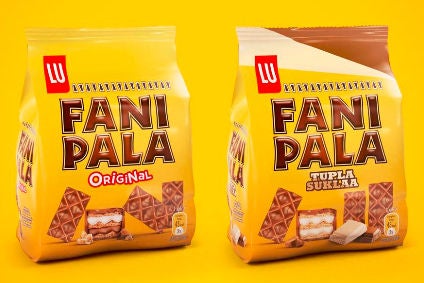 Mondelez International announced another set of disposals in Europe, this time of its biscuit brands, Domino, Jaffa and Fanipala to Fazer Group. The snacks giant also had its first quarter numbers out this week as did Hershey which, alongside its own numbers, announced the acquisition of US firm Ripple Brand Collective, the owner of the BarkThins brand. In executive news this week, Murray Goulburn MD Gary Helou and CFO Brad Hingle announced their departures and Mondelez's Mark Clouse joined Pinnacle Foods as CEO.
Finland's Fazer Group announced that it is expanding its share of the Nordic bakery sector with the acquisition of the Domino, Jaffa and Fanipala biscuit brands from Mondelez International.
Hormel Foods is to sell Diamond Crystal Brands, a US business that supplies food and drinks to the foodservice industry, to an affiliate of local private-equity firm Peak Rock Capital.
Mondelez International reported lower first-quarter operating earnings this week as a drop in net sales offset stronger margins and underlying sales growth.
Hershey has snapped up Ripple Brand Collective, the US firm behind the BarkThins snack brand.
The CEO of Chobani, Hamdi Uklukaya, announced this week he was giving employees an ownership stake in the company.
Hershey's first-quarter results contained a triple whammy as the confectioner reported falling sales and earnings, cuts to forecasts for 2016 and upped its cost savings targets from 2017. The company's results were hit by continued pressure in China and challenges in North America. Hershey, however, announced the acquisition of snacks brand BarkThins and, on a conference call with investors, the Reese's owner appeared confident it was taking the right steps to improve its performance.
Nestle and R&R Ice Cream announced the formation of Froneri, an ice cream joint venture operating in over 20 countries.
Pinnacle Foods, the US group behind brands including Duncan Hines and Gardein, has named Mondelez International executive Mark Clouse as its new CEO.
Murray Goulburn MD Gary Helou and CFO Brad Hingle are to step down from the Australian dairy co-operative, the company announced alongside a profit warning and a move to cut the price it pays farmers for milk.
PepsiCo chairman and CEO Indra Nooyi and Brian Cornell, the chairman and CEO of retailer Target Corp., have announced they are to co-chair an initiative in the US aimed at achieving 50/50 gender parity.