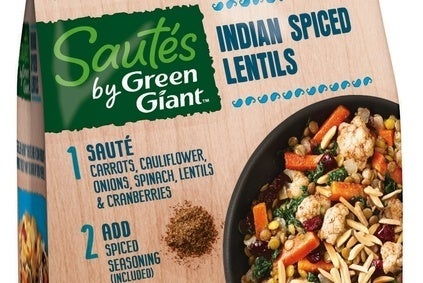 A deal for Green Giant could be nearing with claims US group B&G Foods is in advanced talks to buy the business from General Mills. Elsewhere, eight companies have expressed interest in Australia's Brownes Dairy, while one sale that was announced this week was the acquisition of European snack bar maker VSI by US co-packer Hearthside Food Solutions. And one story that caught your attention was upstart US egg-free mayo maker Just Mayo coming under fire from the country's food watchdog. Click on the headlines for more.
B&G Foods "front-runner to buy General Mills' Green Giant"
US group B&G Foods is reportedly in advanced talks to buy General Mills' Green Giant frozen and canned vegetable business.
Just Mayo under fire from US FDA after complaint
Just Mayo, the US egg-free mayonnaise brand, is breaking the country's labelling rules due to the absence of egg in the product, the US Food and Drug Administration has said.
Hearthside Food Solutions to buy nutrition bar maker VSI
Hearthside Food Solutions, the US contract manufacturer of bars and baked goods, has struck a deal to buy Netherlands-based nutrition bar maker VSI from Dutch private-equity firm NPM Capital.
Mondelez CEO Irene Rosenfeld defends moves on costs
Mondelez International chief Irene Rosenfeld has stood behind the snacks giant's moves on costs amid speculation the Cadbury and Oreo owner could face pressure to work harder to improve profitability.
Brownes Dairy "attracts eight suitors"
Australian dairy group Lion and Chinese giants Bright Food and Fosun are reported to be among eight parties that have expressed interest in buying Brownes Dairy, the Australian dairy business.
American Halal Co. buys Mediterranean Snack Foods Co.
American Halal Co. has made its first acquisition with a deal for US lentil snack maker Mediterranean Snack Foods Co.
Heartland Food Group acquires Splenda
US-based Heartland Food Group, a maker of low calorie sweeteners, nutritional beverages and drink mixes, has announced the acquisition of Splenda from Johnson & Johnson.
India's Cremica set for private-equity investment
Cremica, the Indian food group, is set to see private-equity investment after one of the children of the company's founder decided to sell shares.
General Mills outlines push on artificial ingredients in snacks
General Mills is targeting the removal of artificial flavours and colours from its fruit-flavoured snacks on sale in the US by the end of 2017.
Analysis: What US companies might Nomad Foods buy?
Within a year of being established, Nomad Foods has made waves in Europe's frozen food sector, snapping up Iglo Group and agreeing a deal for much of Findus Group's assets. The UK-listed company is eyeing opportunities in the US. Stefan Kirk, just-food's M&A columnist and advisor at M&A consultants Glenboden, puts forward some possible targets for Nomad.