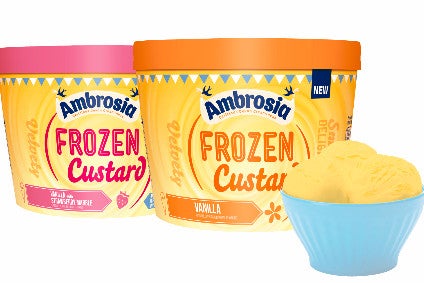 Premier Foods again grabbed the industry headlines this week – but this time the story is less about its future as a viable business and more its status as an independent company, with US group McCormick & Co. eyeing the business. In the US, a number of the country's largest food manufacturers announced plans to introduce GMO labelling. Meanwhile, one of those companies – General Mills – published its third-quarter results, with its domestic yoghurt business looking a problem area. Click on the links for more.
A dedicated page where you can read how the UK group has rebuffed two approaches from US spices and sauces maker McCormick & Co., while signing a tie-up with Japan's Nissin Foods Holdings, which has bought a chunk of the Mr Kipling maker.
This week, a flurry of major names in the US food industry said they would put labels on products on sale in the country that contained genetically-modified ingredients, moves with an eye on regulations set to come into force in Vermont in July. GM ingredients – and whether and how to label them – is fiercely debated at the moment and here we give a run-down of the latest developments.
Yoghurt in the US is the latest niggle on General Mills' list of woes, the Yoplait owner revealed on a conference call in the wake of the publication of its third-quarter results this week.
South Korean tofu maker Pulmuone Co. is expanding its business in the US through the acquisition of some assets in the market from Hong Kong-based Vitasoy International.
Arla Foods has announced it is entering into a joint venture with Dairy Farmers of America for the production of cheddar cheese.
Canadian dairy group Saputo plans to close three production facilities in its home market in a bid to improve efficiency.
Cerealto, the international business of Spanish food firm Grupo Siro, has acquired a factory in Portugal from Mondelez International.
Tesco plans to launch seven value-oriented own-label ranges in the UK, focusing on delivering "quality" in the produce, meat and poultry categories.
Last year, General Mills announced it was refocusing innovation unit 301. Inc from developing in-house brands to centre on providing capital to emerging food brands and create "breakthrough innovation in the food space". Since then the unit has made two significant investments – in US plant-based snacks firm Rhythm Superfoods, and this month, US cottage cheese maker Good Culture. In a two-part interview with Hannah Abdulla, 301 Inc.'s VP and general manager John Haugen tells us what prompted these investments and more about the direction in which the investment vehicle is headed.
In the UK food and drinks sector, there is one story on everybody's lips – the country's decision to tax sugar. And, during the first day of the Consumer Analyst Group Europe investment conference in London yesterday, McDonald's was asked for its thoughts.