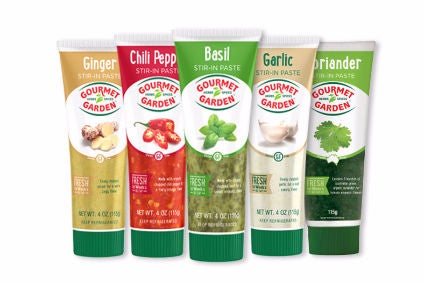 McCormick & Co., days after dropping its interest in Premier Foods, this week announced a smaller acquisition, buying Botanical Food Co., an Australia-based maker of chilled herbs – and we expect more M&A to follow from the US spices giant. Elsewhere, Saudi food group Almarai revealed it is looking to take control of the UAE's National Food Products Co. Danone published its first-quarter sales and claimed it was making progress towards its goal of accelerating its annual sales growth by 2020. And we interviewed Ireland's BFree Foods, which believes its recipes will help it grow in a crowded free-from sector.
US spice and condiments maker McCormick & Co. has acquired Australian chilled herb manufacturer Botanical Food Co., the owner of the Gourmet Garden brand, in a A$150m (US$114m) deal.
Click here for why it is likely McCormick will strike more deals in the coming months.
Saudi Arabian dairy firm Almarai has confirmed it is interested in acquiring a "controlling stake" in the UAE's National Food Products Co. (NFPC).
Danone insisted this morning (19 April) it is winning "key battles" in its bid to raise its sales and earnings trajectories by 2020. The French food maker flagged higher sales from its US dairy business in the first quarter of this year and predicted ongoing improvements from its European dairy operations. Danone also insisted the fundamentals of its Chinese infant nutrition business are solid despite recent challenges. Katy Askew reports.
Hovis Ltd, the UK bakery group, has named executive chairman Nish Kankiwala its new CEO after Martyn Wilks decided to leave the business after a year in the role.
Grupo Bimbo, the Mexican baker, has entered into an agreement to acquire General Mills' frozen bakery and foodservice business in Argentina.
Ireland-based free-from foods maker BFree Foods, set up five years ago, is growing rapidly and expects that to continue this year, with plans to double its turnover in 2016. Demand for free-from products is rising but the sector, however, is becoming intensely competitive. Hannah Abdulla talks to BFree Foods general manager Alex Murphy to find out how the company plans to continue to expand.
Lactalis has confirmed it is planning to close a production site in Valladolid, Spain.
Brazilian meat group BRF plans to speed up its expansion in south-east Asia and the Middle East through the opening of a new regional office to focus on growing in halal markets.
Nestle has launched a line of Greek yoghurt products in India.
Hormel Foods' sports and nutrition unit Cytosport has announced it is revamping the recipe behind its Muscle Milk protein shakes to cut the amount of sugar and fat they contain.