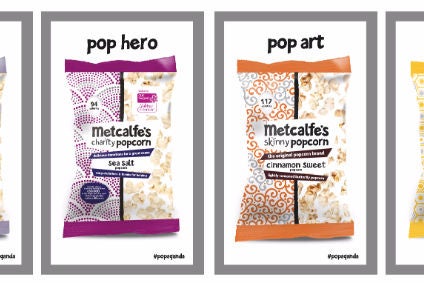 Diamond Foods, itself set to be sold to US snacks group Snyder's-Lance, this week took a stake in UK popcorn maker Metcalfe's Skinny. Our M&A pages featured a number of deals, including the move for Chinese dairy group Ambrosia by Irish co-op Ornua. At the ICR investment conference in Florida, the new owner of Green Giant, B&G Foods, said it was interested in more acquisitions in the frozen food sector, while Hain Celestial told delegates it could withstand greater competition in the US natural and organic sectors.
Diamond Foods acquires minority stake in Metcalfe's Skinny
Diamond Foods has acquired a 26% stake in UK popcorn maker Metcalfe's Skinny Ltd.
Can Hain Celestial compete as Big Food goes natural? – analysis
Hain Celestial has been a chief beneficiary of the growth in the US natural and organic food categories. However, with sales under pressure, can the company compete against the larger food manufacturers eyeing growth in the sectors? Katy Askew listens to Hain Celestial's presentation at the ICR investment conference in Florida this week.
Ornua buys Chinese dairy group Ambrosia
Ornua, the Ireland-based dairy business, is eyeing growth in China's retail and foodservice channels after snapping up China's Shanghai Ambrosia Fine Foods Co.
Arla launching UK milk brand
Arla Foods is launching a milk brand in the UK that it claims is fat-free but with the taste of semi-skimmed milk.
B&G Foods ready for more frozen food deals
B&G Foods, the new owner of Green Giant, is prepared to make more acquisitions in the frozen food sector, the US group's chief executive has said.
General Mills backs snack group Rhythm Superfoods
US snack maker Rhythm Superfoods has secured a US$3m funding round, with a lead investment from 301 Inc, General Mills' business investment arm.
just-food has published research into the factors that will drive M&A in the food industry from now and into 2018.
The full report will be available from just-food in mid-February. However, those who take out an annual subscription to just-food before 31 January 2016, at a 35% discount on standard pricing, will receive free copies of both 'Drivers of Food Industry M&A' and another recent report, 'How Brands Can Win in Online Grocery', which was written by Professor David Hughes, Emeritus Professor of Food Marketing at Imperial College London and Miguel Flavián. To take advantage of this offer click here.
SunOpta turns focus to consumer products in 2016
SunOpta, the Canada-based ingredients supplier, private-label group and contract manufacturer, said today (12 January) it will this year focus on improving the performance of its consumer products business.
France's Hafner, Patiprestige announce merger
French ready-to-fill pastry maker Hafner and local fresh cake maker Patiprestige have announced a merger.
Wal-Mart launches "budget-friendly" organic own-label line in Canada
US retailer Wal-Mart is introducing a line of "budget-friendly" private-label organic foods into its stores in Canada.
Lindt & Sprungli sales outpace market in 2015 – but miss analyst estimates
Swiss chocolate maker Lindt & Sprüngli continued to grow its business ahead of the global chocolate market in 2015, supported by both organic growth and the contribution from acquisitions.