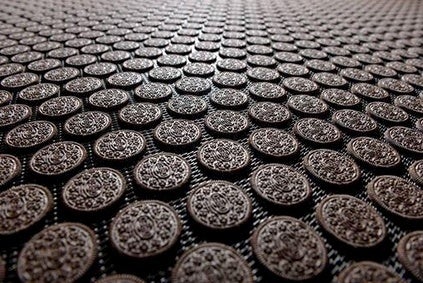 Mondelez International reported on its first-quarter results this week (1 May) and the group was eager to emphasise its performance in China, which was stronger than many multinational peers. Nestle is a company facing its own challenges in China and we analysed how the appointment of CFO Wan Ling Martello to head up its Asia unit can boost the group's outlook in the market. Elsewhere, we spoke to Gardein founder and CEO Yves Potvin as well as learning about Muller Wiseman Dairies' plans to launch a liquid milk brand in the UK. Here are the highlights from just-food this week.
Mondelez ahead of the market in China thanks to Oreo, gum
Mondelez International has seen a 10.8% growth in emerging markets thanks to positive performance in biscuits and gum.
On the move: Why China was central to Nestle executive change
Nestle's operations in Asia, Oceania and Africa have had a challenging few quarters. CFO Wan Ling Martello has been asked to take charge of the division to try to revitalise its performance – and must focus on China.
Fonterra warns on global geopolitical unrest, oversupply
Fonterra, the world's largest dairy exporter, has said that "significant volatility" is expected to shape global dairy commodities prices due to oversupply in the market and ongoing geopolitical instability in various regions around the world.
US court backs Vermont GMO labelling act
A US federal court has denied a motion from the Grocery Manufacturers Association and other industry groups to block the implementation of GMO labelling laws in Vermont.
just the answer: Gardein founder and CEO Yves Potvin
Canada's Garden Protein International – the company behind the meat-free brand Gardein – has enjoyed rapid growth and is hoping for more of the same under the ownership of US giant Pinnacle Foods, which bought the business last year. Yves Potvin, the founder and president of the Vancouver-based firm, has stayed on with Pinnacle and he spoke to Dean Best about expansion, competition and the outlook for the meat alternatives category.
Interview: Muller Wiseman mulls branded milk move
Sales volumes are rising in the UK liquid milk category but value has been squeezed as retailers zone in on price. Four pints of milk for GBP1 has become the norm in a category dominated by own label. In an effort to build value in the UK liquid milk sector, Muller Wiseman Dairies plans to develop its own milk brand. Katy Askew spoke to Rebecca Oliver-Mooney, Muller Wiseman's category and marketing controller, on the sidelines of the Canadean dairy innovation summit to find out more.
Post warns on bird flu at egg supplier
Post Holdings revealed yesterday (29 April) that avian influenza has been detected at an unnamed third party supplier of eggs to its Michael Foods Group business.
Tereos to buy Real Good Food's Napier Brown
France-based sugar refiner Tereos has struck a deal to buy Napier Brown, the sugar arm of UK group The Real Good Food Co.
BRICs and beyond: India's dairy dilemma: cold chain or UHT?
Dairy and energy sector experts are optimistic about effective cold chain solutions they say are being developed for India's dairy sector. Speakers at a two-day seminar on New Technologies for Milk Processing, staged in Mumbai at the India International Dairy Expo last week, were upbeat on the technological advances being made in the field. However, some experts argue that India's dairy needs would be better met through an increased focus on less perishable, long-life products such as UHT. Mini Pant Zachariah reports.
Dr. Oetker buys Romanian baked goods brand Alex
Dr Oetker has announced the acquisition of Romanian baked goods brand Alex Desserts from Alex & Comp.