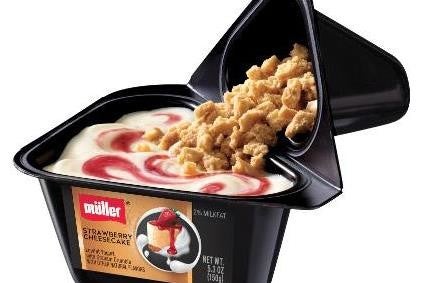 Dairy dominated this week's headlines with Muller and PepsiCo pulling the plug on their US yoghurt venture, Coca-Cola lining up a deal to invest in a Brazilian dairy and Arla Foods outlined its strategy for the next five years. Elsewhere, Nordic food group Orkla moved to beef up its operations in central Europe with a deal to buy Czech Republic-based company Hamé.
Muller, PepsiCo exit US yoghurt JV
German dairy Muller and PepsiCo are ending their yoghurt joint venture in the US, Muller Quaker Dairy .
Coca-Cola eyes Brazil dairy entry with Verde Campo acquisition
Coca-Cola is in talks to buy Brazilian dairy player Laticínios Verde Campo in a move that would see the soft drinks giant enter the country's dairy sector.
Orkla expands with Hamé acquisition
Nordic food group Orkla is expanding its operations in central Europe with the EUR175m (US$191.7m) acquisition of Hamé, a branded consumer goods company with "leading" market positions in the region.
Arla details 2020 growth strategy
Arla Foods has said it will focus on growing its business organically in eight dairy categories and six regions as it works to build the value of its raw milk supply over the next five years.
Woolworths faces court action over supplier payment demands
The Australian Competition and Consumer Commission has initiated federal court proceedings against Woolworths Ltd over alleged "unconscionable conduct" after the supermarket group purportedly requested payments totaling around A$60.2m (US$43.6m) from various suppliers.
Nestle makes sustainable biscuits, chocolate pledge for UK and Ireland
Nestle will only use sustainable cocoa on the chocolate and biscuits it sells in the UK and Ireland from the start of the year.
Canada working on retaliatory food duties on US
Canada is working on duties on a range of imported US-made food products following authorisation from the WTO it can collect C$1.05bn (US$772m) annually in compensation for illegal US country-of-origin labels.
The results are in! just-food's 2016 Confidence Survey
What will 2016 bring for the food industry? We asked our readership of senior professionals around the world for their views on a range of issues. Click here for a slide deck detailing the results of the survey, giving you insight into how your peers view the year ahead.
Salad Signature sold to private-equity firm IK Invest
Salad Signature , the Belgium-based maker of salad spreads, has a new private-equity owner after IK Invest bought the business from AAC Capital.
Nestle faces more Maggi tests in India
Further tests will be carried out on Nestle's Maggi noodles in India, the country's consumer court has ruled.